I have been honored to work with a wonderful group of "older adults" at the Craft Contemporary Museum in Los Angeles, offering a series of workshops teaching bookmaking techniques, and providing a forum for creativity, imagination, sharing and story.
The remainder of our series, "Crafting Our Stories By Hand" has had to be postponed due covid19.
Therefore, I have started an email newsletter to keep our community going, offering tips, images and sharing the work these makers are doing at home while "sheltering in place".
Sharing these newsletters as a blog post makes their contents available for any and all. It inspiring to see what these makers have done and are doing during these crazy times.
I am happy to bring you images, tips, inspiration and learning for your bookmaking journey.
I hope you are all well, staying safe, and creating!
You might want to check out the "Crafting Our Stories By Hand" blog post below…it holds wonderful photos of you all taken during our workshops at the Museum. So photogenic you all are (as Yoda would say!)
Also, you can check out all of our weekly newsletters in blog version right here.
This week Vicki completed an elaborate Tunnel Book, so in addition to sharing it here, I am including images that show a step-by-step process of making a simple version of a Tunnel Book, as well as some samples from a workshop I attended a few years ago at the Hammer Museum, where I learned how-to!
Vicki's Tunnel Book, in her own words,

"This is about the sixth try.  I tried it wrong in every way possible, wrong size, wrong paper, wrong idea etc. etc.  Given that, I am happy with this effort.
I have been spending the remainder of my time collaging, altering paper and marbling.  By the way, it is World Collage Day on May 9th!" (I added that link!)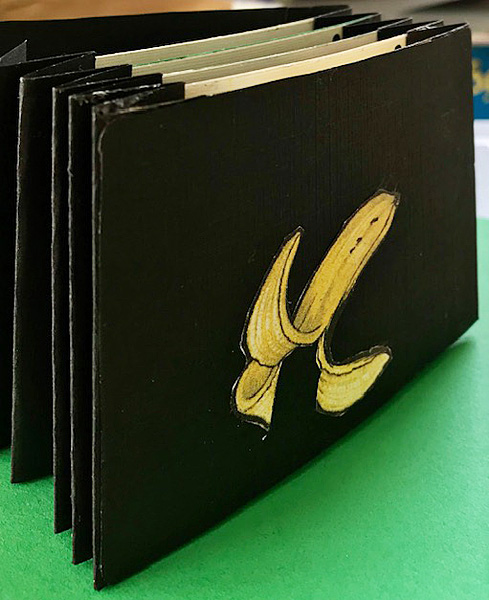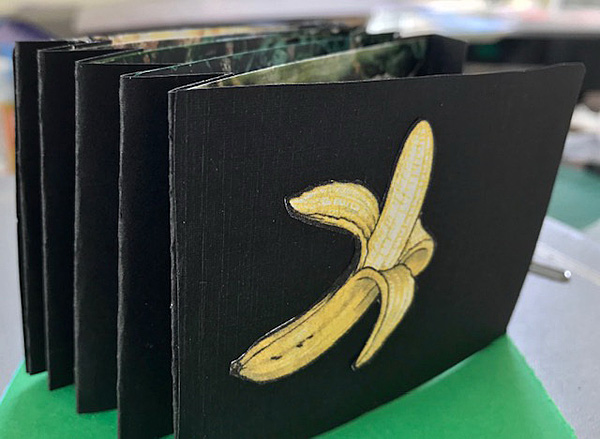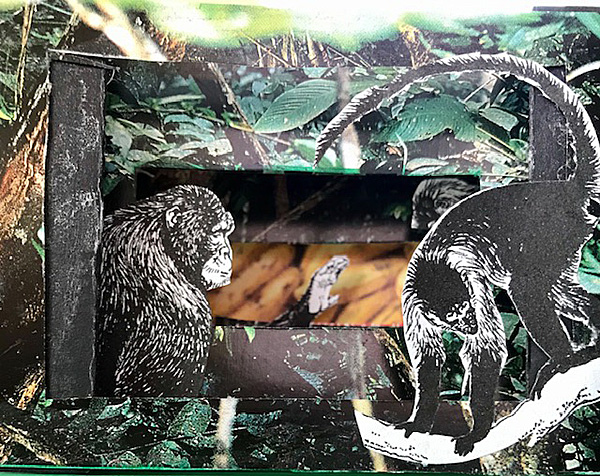 WOW! gorgeous piece! A real monkey habitat!
In pictures, here is a "how-to" to create a simple Tunnel Book: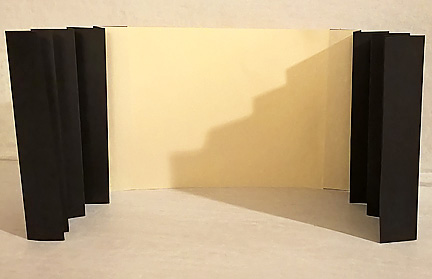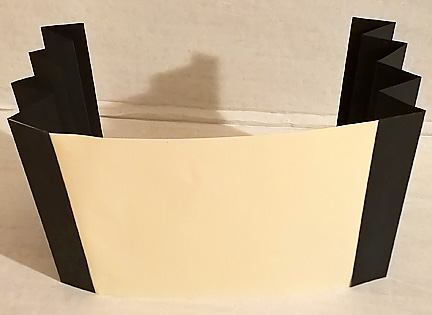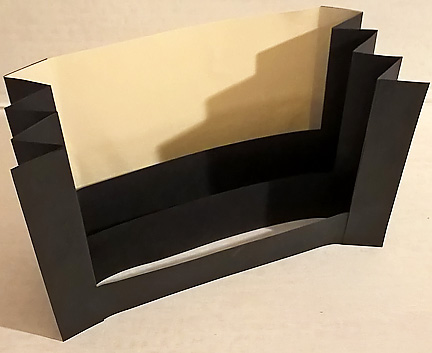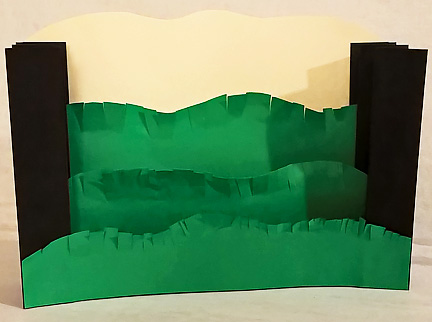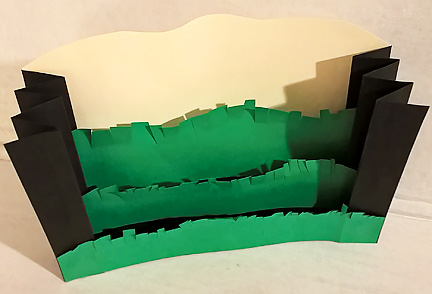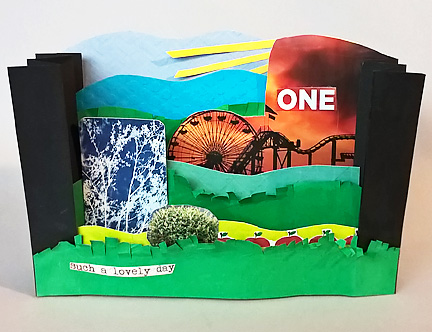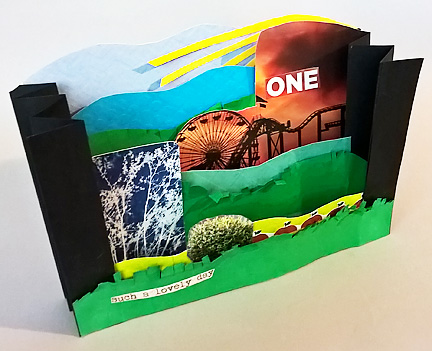 And some very fanciful examples of tunnel book, from a class where I learned to make them: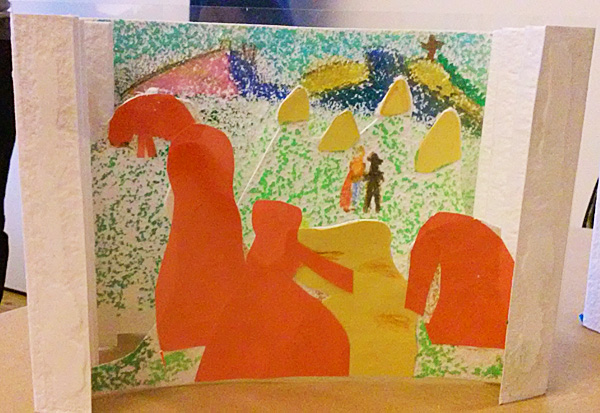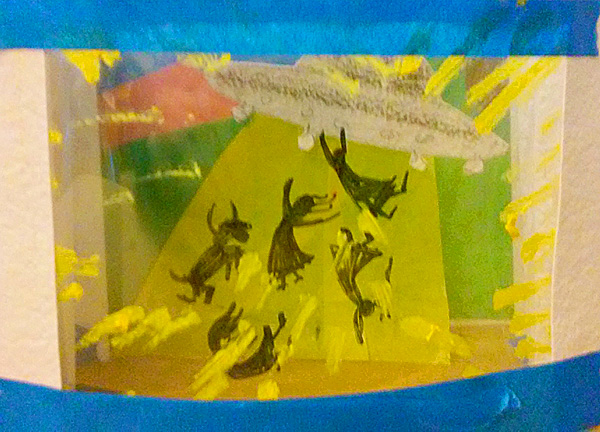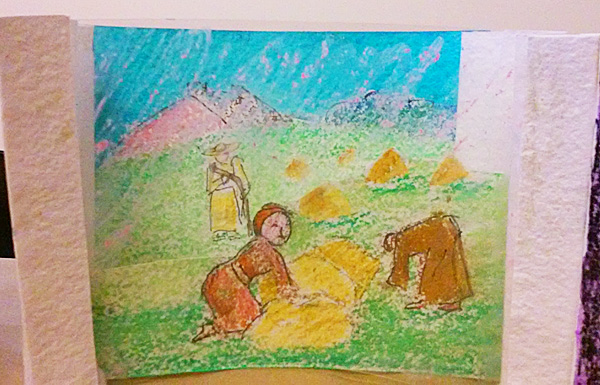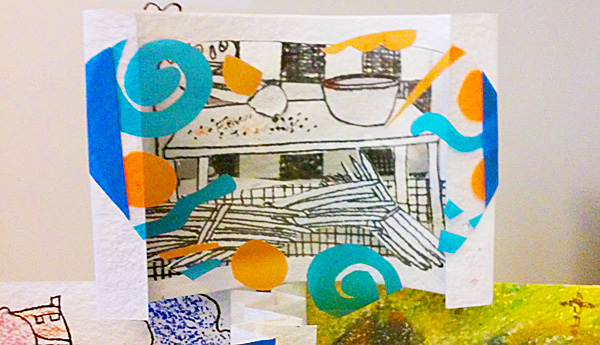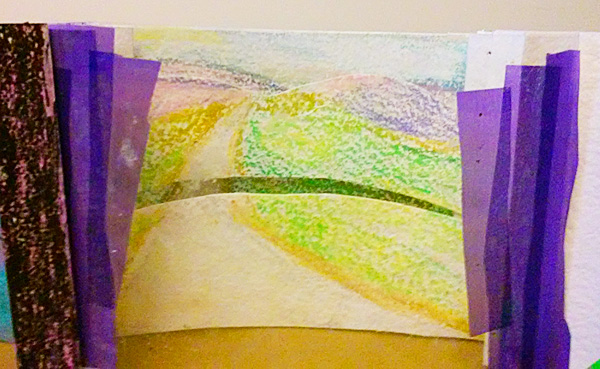 An here are two magnificent book projects completed by Sandra…terrific photography also. Sandra says, 
"I made my first book from my stash of vintage prints of women's fashions — I think 1940s?  Backgrounds are printed patterns found online. Used an old cardboard box as the base. And an entire stick of glue!"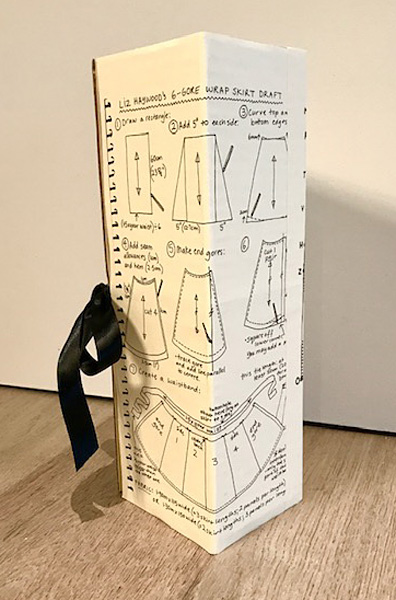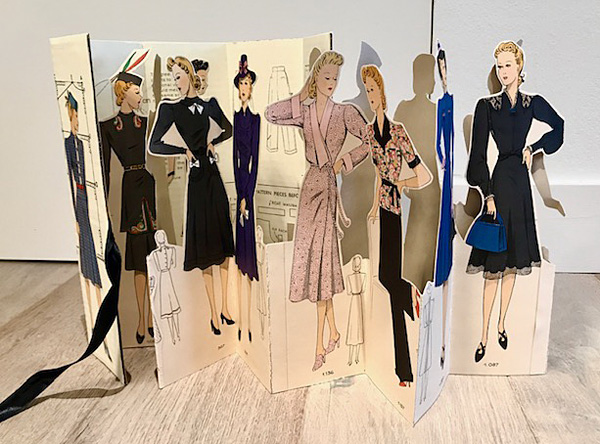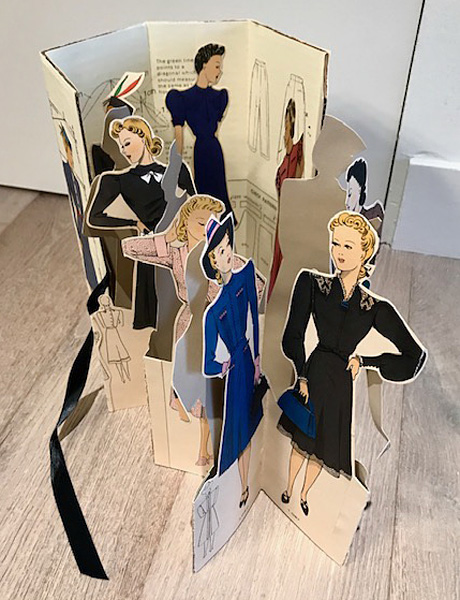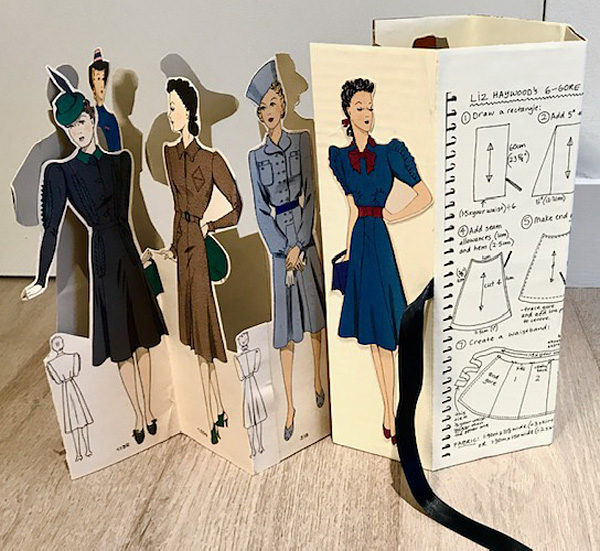 Wow. This is like a tableaux or theater…interesting that both Vicki and Sandra did books that created visual scenes BRAVO!
More from Sandra:
"My second book is a fan book. I started with a Langston Hughes poem 'Harlem Night Song' — and then created my version of Harlem at night with song."
You certainly did, Sandra. Wow. I am blown away….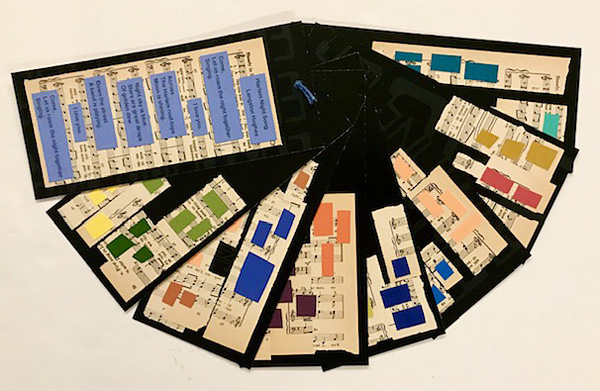 Also, if you can, please join us by ZOOM next Thursday April 30th at 5pm…see details right below.
BYOC (Bring-Your-Own-Craft)
Being cooped up doesn't mean that creativity has to be confined, too. We want to see the projects you've been making—whether it's a zine, a sweater, or a mask—and craft in (virtual) community rather than from a social distance. 
Join us for a BYOC (Bring-Your-Own-Craft) Zoom, every Thursday at 5 PM, hosted by a Craft Contemporary staff member. 
Show us what you're making and we all craft side-by-side!
BYOC with Holly Jerger – April 30
BYOC with Marisela Norte – May 7
BYOC with Suzanne Isken – May 14
BYOC with Eunice Lee – May 21
Well that is it for this week dear Readers and Bookmakers and Both!
If you are able, and so inclined, email us back to share something book-related, or anything of interest you wish.
Stay Safe, Stay Strong, Stay Well, Stay Sane
STAY CREATIVE!
And as Sandra says, "Craft on!
Until next time…