It has been exciting to lead programs at the Granada Hills Branch Library of the LAPL, as part of my Artist Residency there:  "We Write the Book", supported by the Los Angeles Department of Cultural Affairs.
In honor of Asian/Pacific American Heritage Month, I led a workshop for all on how to marble paper, create scrolls and put these two forms together into one of the oldest book structures extant.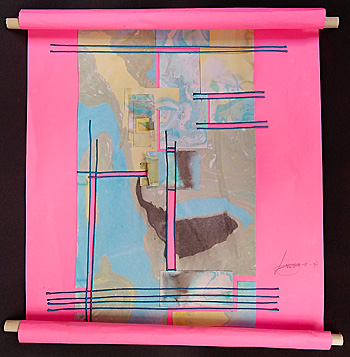 Scrollwork made by an adult artist at a UCLA-Fowler Museum program and generously gifted to me, and which I often use as a sample/model to inspire students.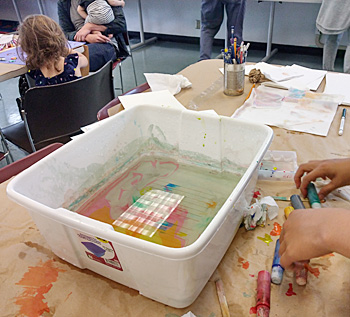 We begin by floating specially formulated inks on the surface of a tub of water. The ink colors can be gently moved around to create designs. Papers are then carefully lowered onto the surface of the "inked" water, and pick up the designs, like a monoprint!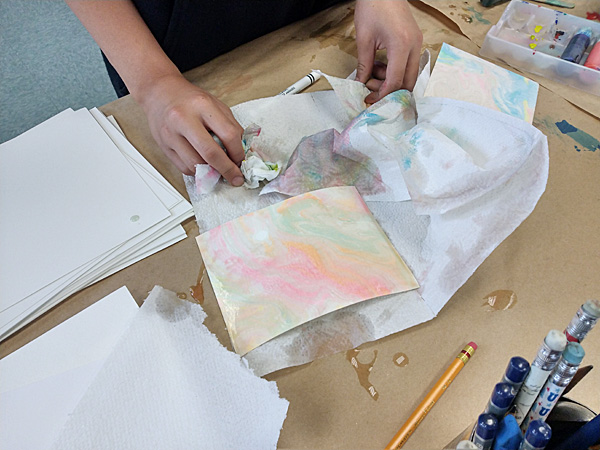 The marbled papers are lifted out of the tub, placed on and under and blotted with paper towels, which absorb excess water and help with the drying process.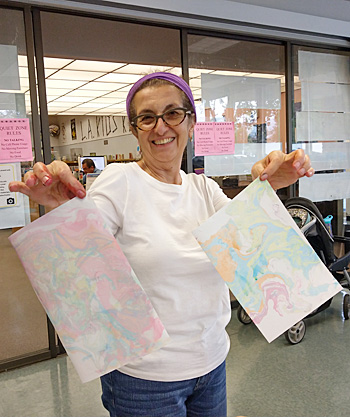 The results can be delicate pastel,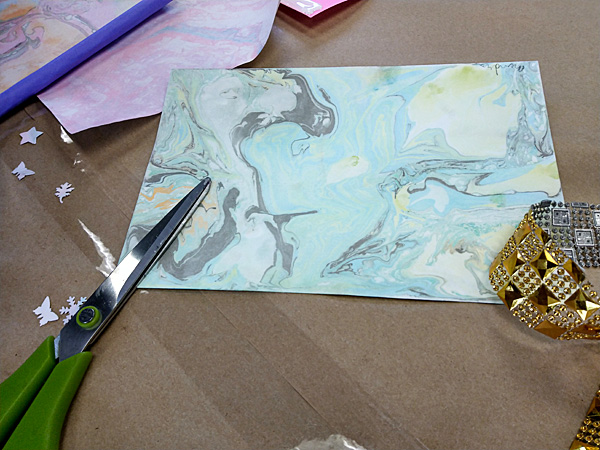 or stronger colors and patterns, depending on the colors and handling of the inks.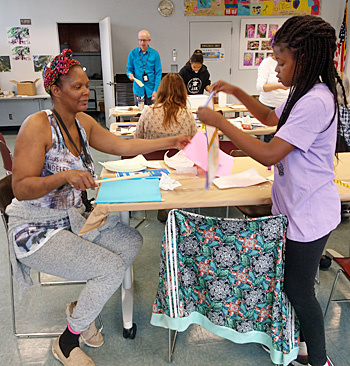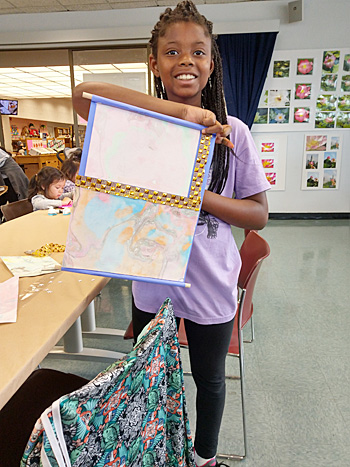 While their marbled papers were drying, participants chose bright tagboard papers for their scrolls and added wooden dowels at the vertical top and bottom of the pieces. They then added their marbled papers and a myriad of other materials!

We used both glue sticks and tacky glue, depending on the weight of the materials added.

The results were resplendent, with the softer strength marbled papers contrasting with gold ribbon and more.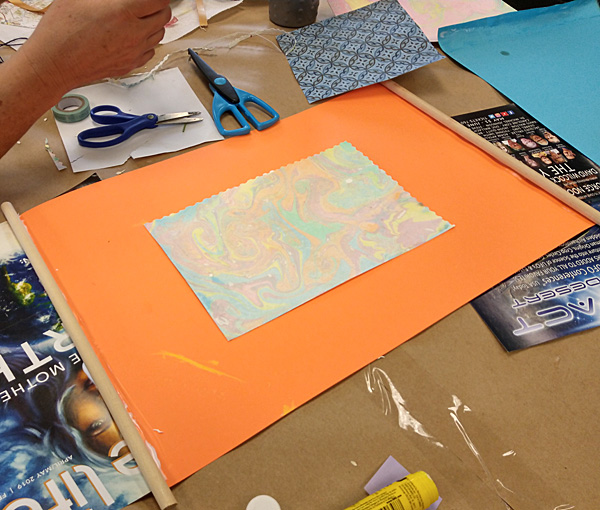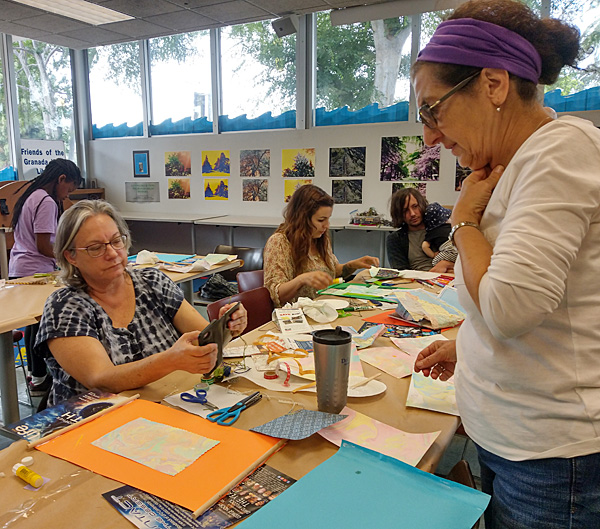 Intergenerational attendance enriched the experience, as participants of all ages engaged their creativity and learned new skills in the process.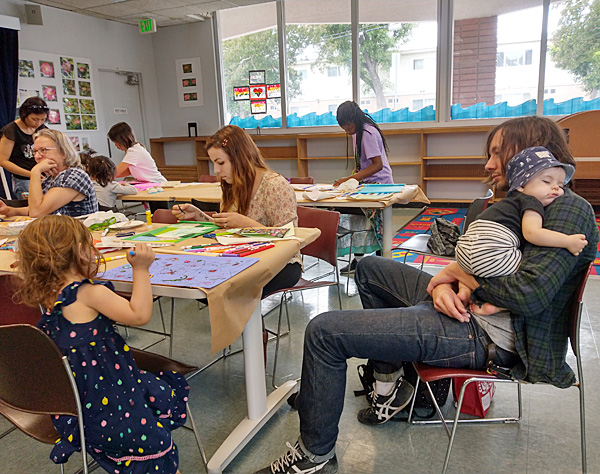 Whole families joined us, even with very young attendees! Hopefully, these young parents of two got a break.

Attendees young and old loved adding two and three-dimensional stickers,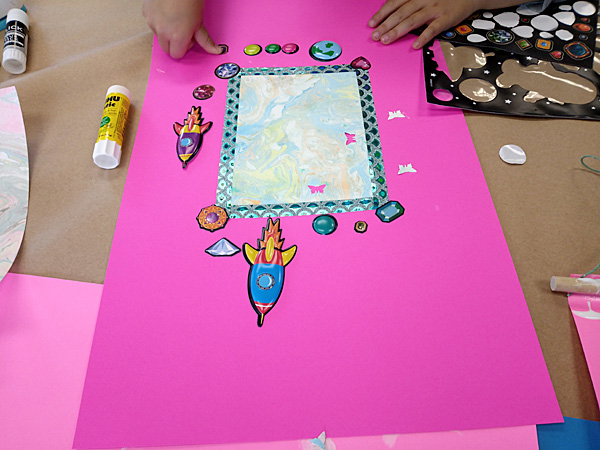 washi tape, ribbon and string,

putting them all together in imaginative and innovative ways to create singular scrollworks.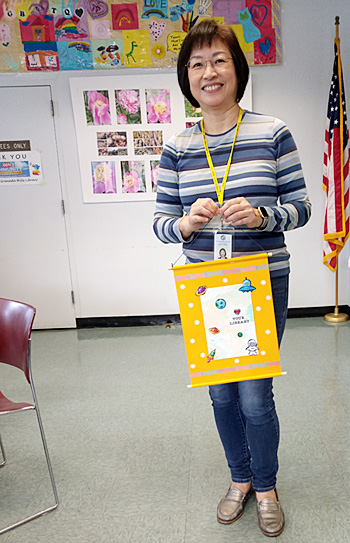 This says it all. The Library belongs to Everyone!