What do we seek, yearn for, want, crave, need, are
motivated

to strive for, for this New Year coming up?
What is Possible?
And
How do we Achieve it?
What are the Possibilities, and how do we Realize them, in this day and age, in this present moment, under our current circumstances, confronted by challenges seemingly too numerous to count, much less take in?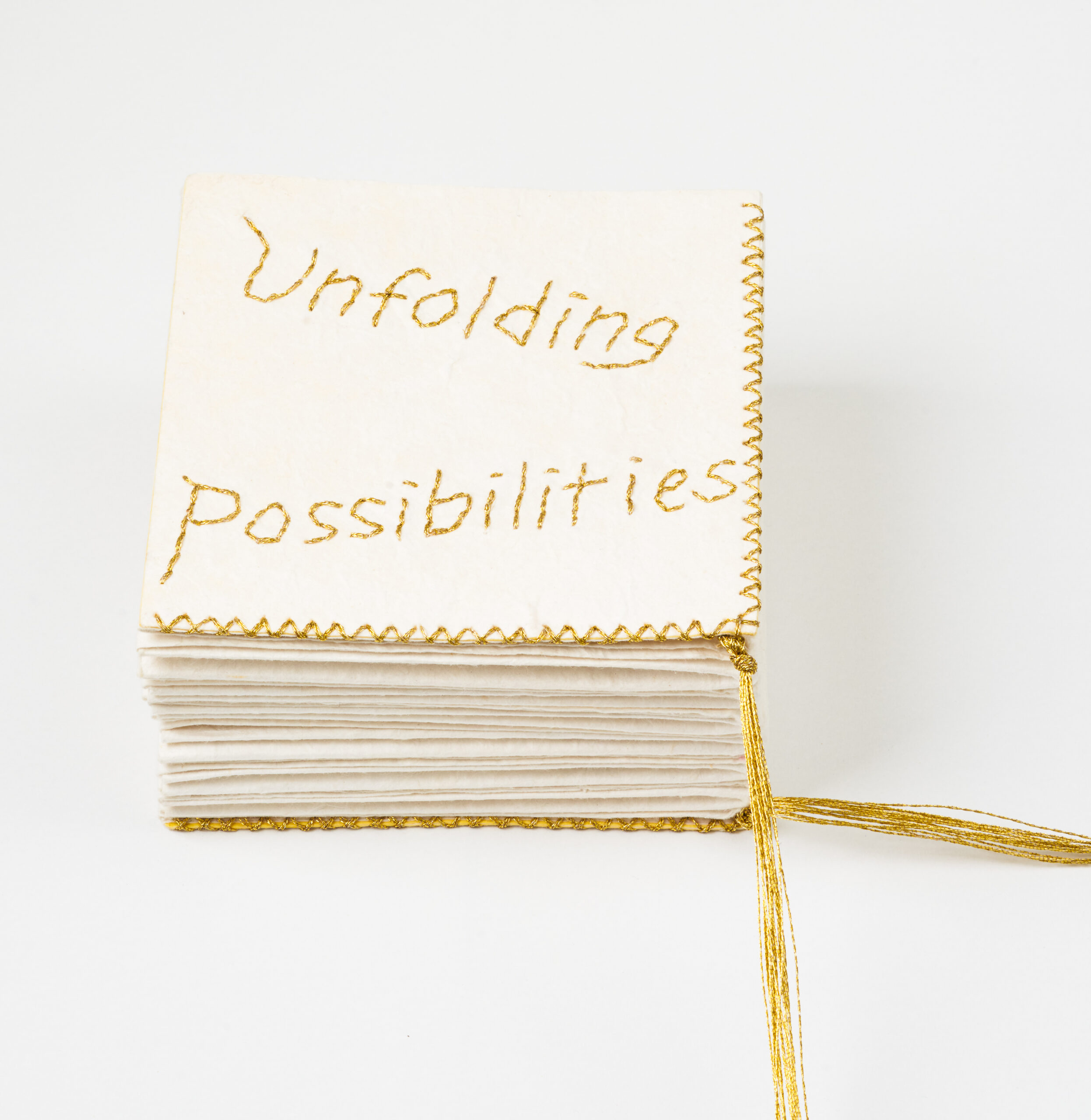 Unfolding Possibilities, (front cover) 2021, 6+ x 78″ x 6+", mixed media artists' book
We have to somehow move forward in a positive way, keep on truckin', keep on trying, keep at it, continue, keep on keeping on.
We have to try, each in our own way. Hopefully, something will line up.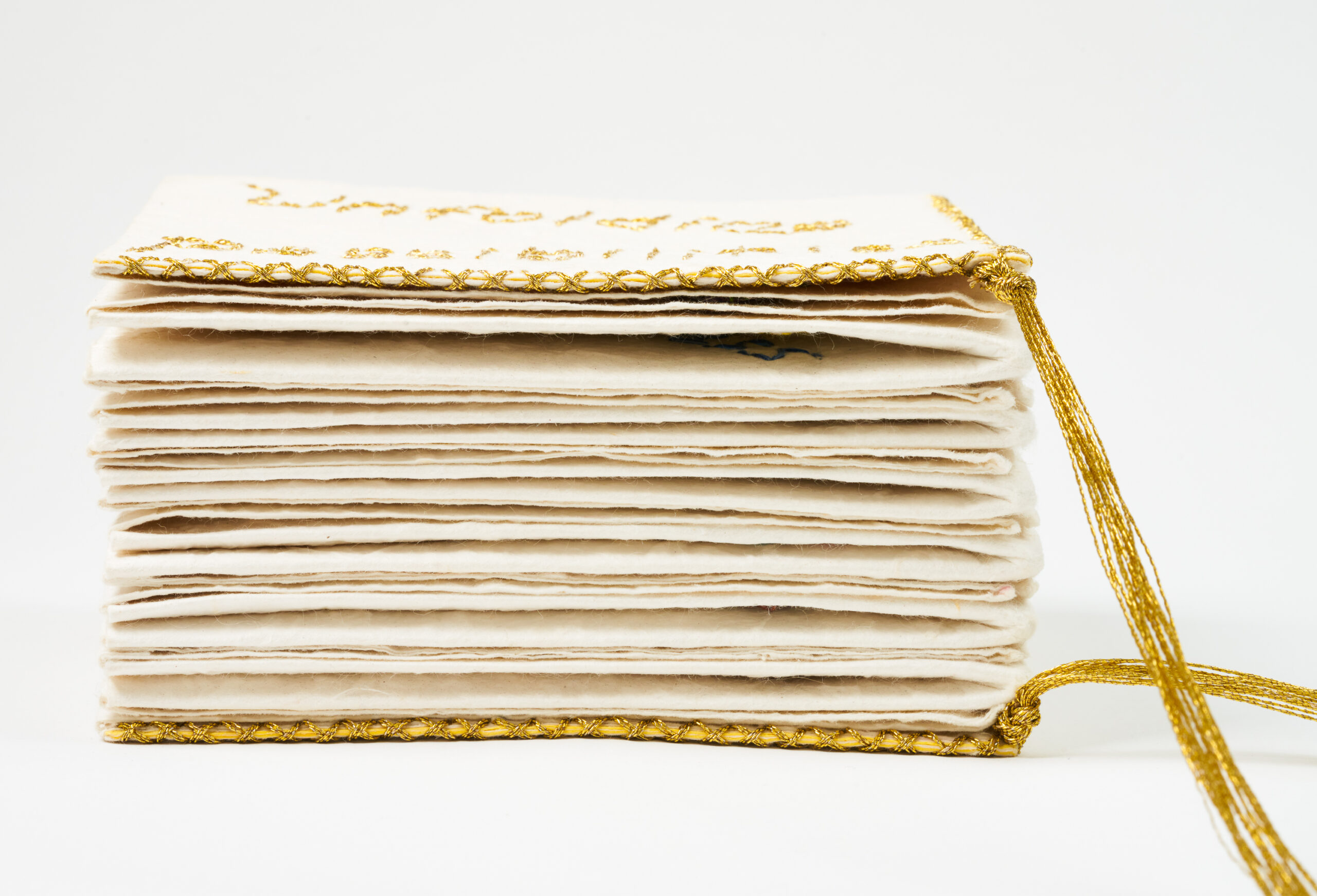 Unfolding Possibilities, (closed) 2021, 6+ x 78″ x 6+", mixed media artists' book
An initiative of the Los Angeles Count Department of Mental Health, Why We Rise LA took place in May 2021, supporting hundreds of Community Arts & Culture Projects which took place across all Los Angeles County neighborhoods, in partnership with more than 100 community groups, artists, grassroots leaders, healers and other LA County Departments. These projects and collaborations included mural making, ancestral healing workshops, a Countywide public literary art project, a Countywide chalk art program and more to celebrate the remarkable resources and communities in LA County and used arts-based strategies for healing and wellbeing.
I was honored to teach a workshop as part of Why We Rise LA 2021 in coordination with 18th Street Art Center'sArts Learning Lab @ Home: called: Bookmaking with Self-Compassion.
See the workshop HERE!
Nearly 70 online participants learned to create the "Flower Fold" book structure, then added embellishment, images, and words expressing their experience of the pandemic, where they are at now, what they learned, what they wanted to share, their hopes, wishes, dreams, cares , fears, realizations, trauma, expressing the full gamut of human emotions.
The range of words submitted was wide-ranging, thought-provoking and evocative….including opposite emotions and experiences and bits of truth-telling, realizations and wisdom participants seemed eager to pass on to others in other words, humanness in its multiplicity.
I took the words generated by this workshop, and requested from the community at large, and stitched them into an Artists' Book I made as a community collaboration, entitled, "Unfolding Possibilities".  ("Unfolding Possibilities – Possibilities Unfolding").  Videographer Jeny Amaya created a video of the project which was screened during the 18th Street Art Center event, "Left/Right/Here"
Unfolding Possibilities, Possibilities Unfolding: the making of above.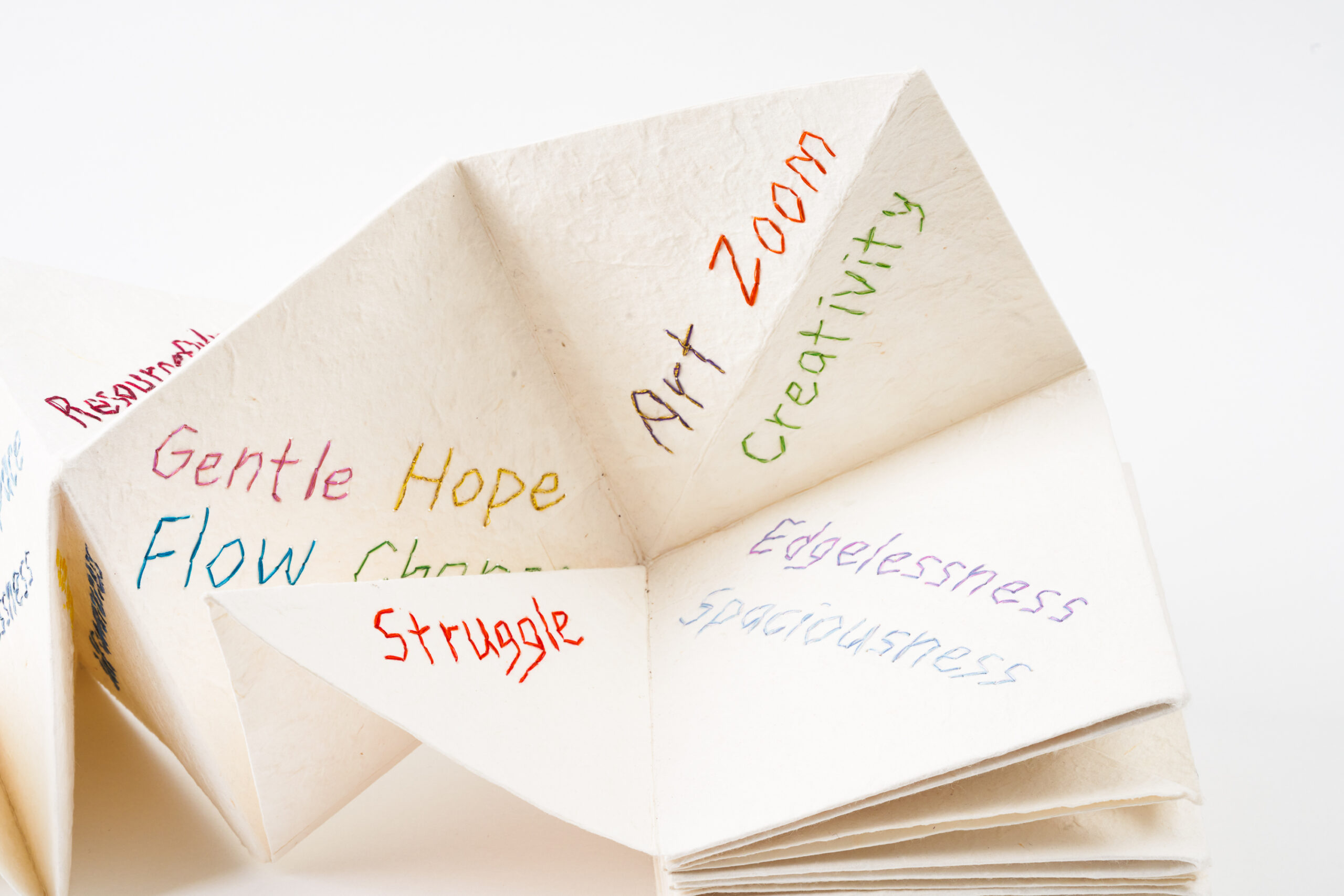 When confronted with what seems like overwhelming odds, and not in your/our, favor, try making something, try creating. Here is a workshop to show you how to do it, just one of countless, infinite ways you can make something (out of almost nothing-), create something, experience working with your hands and heart and imagination, craft something, fashion something, and perhaps share this with others. Relax your heart and soul and play. Just see, if you do not emerge, like the butterfly, stronger for the effort. Enjoy. See what happens.
Wishing You the absolute best, healthiest, most creative, most supportive, safest, and imaginative, New Year, now and ever.
Here. We . Go.