There's a cool new show in town, transforming not through trickery, but with an Open Heart, and wondrous "soft" materials.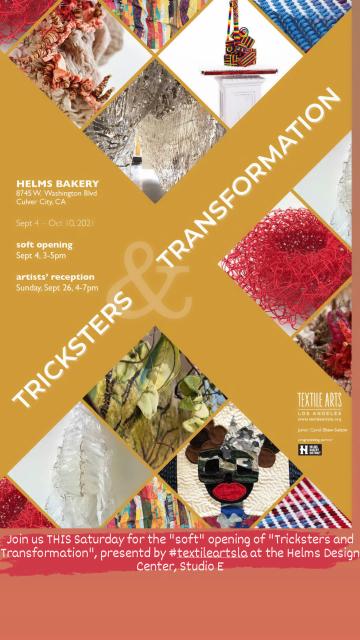 "Textiles have the universally demonstrated capacity for holding meaning, establishing connections, and creating healing. As we emerge, on many levels, from the darkness into the light of awareness of isolation and injustice we have an opportunity and obligation to examine the status quo. This exhibition will allow the artist to step into the now and make work that opens doors within themselves, thereby acting as a portal to a collective resurgence into a renewed relationship with the world. This awakening inspires transformation.
There is a deep potential for the artist to act as trickster, agent of change, or boundary crosser. After the pandemic and the social upheaval of the past eighteen months, the artist has gained renewed agency for creating more enlightened definitions of meaning and new ways of seeing.
The pandemic can be a portal, serving as a provocation to transformation."
I am honored to be showing "Torrent and Tangle: Keep Your House In Order", in a new, open configuration!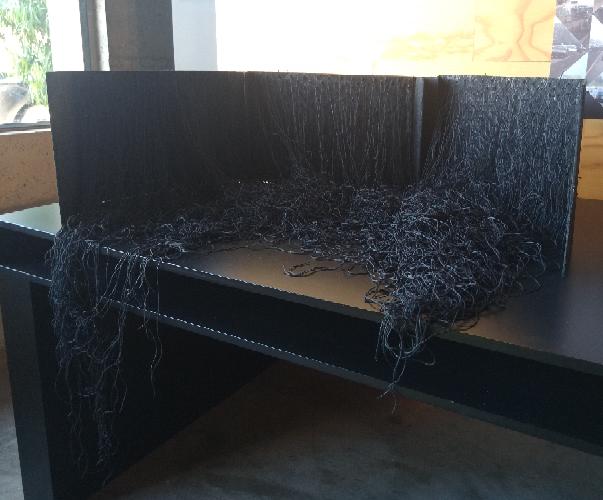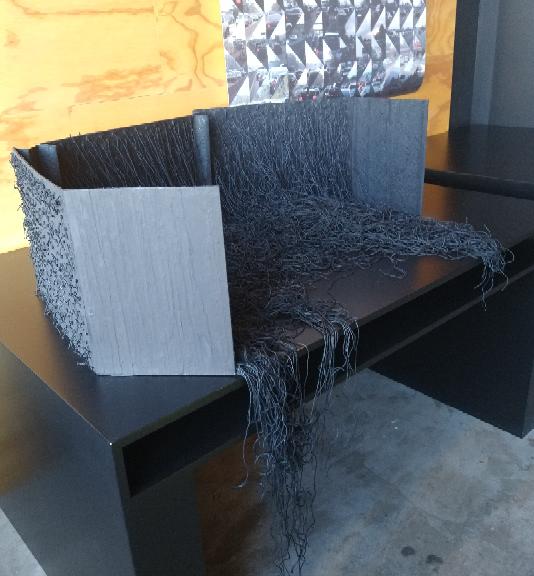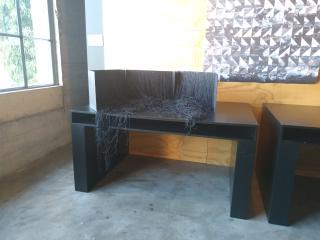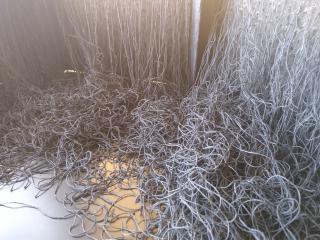 This work begs the question: with all the torrent and inevitable tangle, how DO we "keep our house in order" or keep our house at all?
Also a play on "keeping house" a sort of 1950's housewifery term to my mind, , which eerily reverbs with the growing rate of homelessness across LA Counbty, the US and the globe.
In the words of revered and beloved LA-based artist Kim Abeles:
"I followed the thread like a stream to find balance.
Textile Arts Los Angeles has presented a rich exhibit juried by Carol Shaw-Sutton at the Helms Bakery space in Culver City. "Tricksters & Transformation" is the show, an artist-in-residency with Carmen Mardonez, and a zoom presentation with Beverly Naidus who provided an inspiring history of some of her many audience-engaged artworks.
It was tempting to photograph every piece because the exhibition is divine with art that offers detail and a tactile emotion. Speaking with hands and care. The title comes in part because of the multiple ways that the artists transform the materials, including post-production remnants and those that would have gone overlooked except for the poetics of art.
Helms Design Center
8745 Washington Blvd. Studio E
Culver City, CA 90232 United States + Google Map
Website:https://textileartsla.org/tricksters-exhibit-1