Exhibitionista: TRICKSTERS & TRANSFORMATION at the Helms Design Center
September 4, 2021 @ 12:00 pm

-

October 10, 2021 @ 5:00 pm

FREE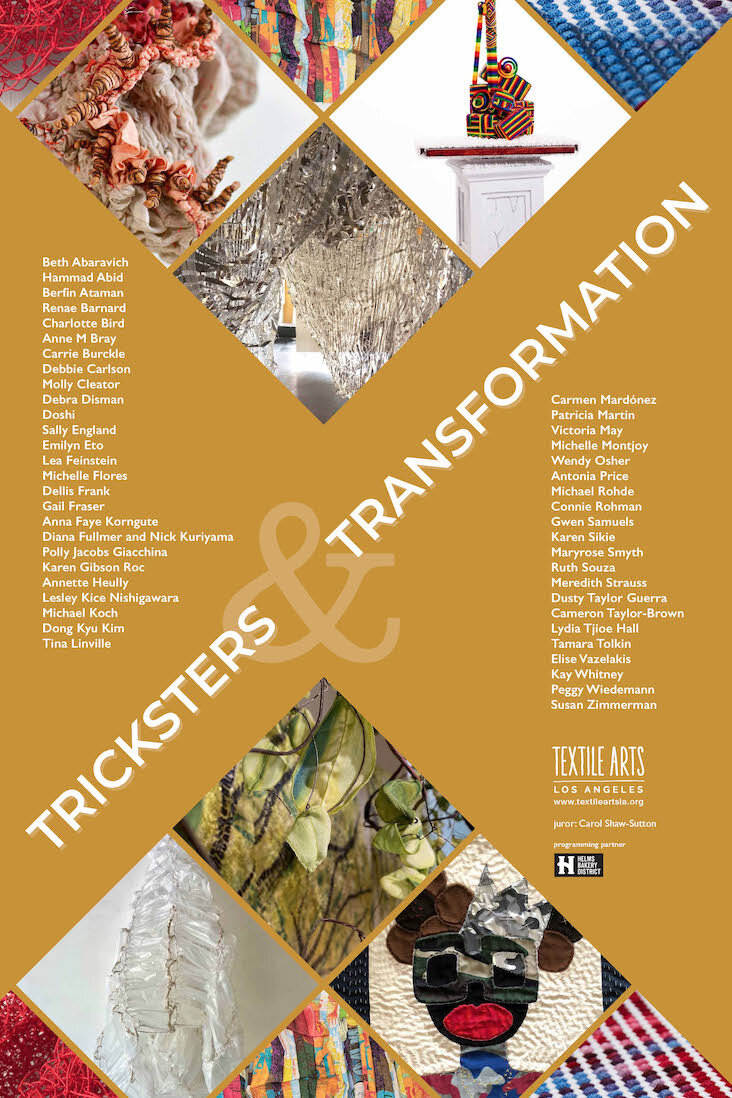 I am thrilled to be participating in "Tricksters and Transformation", organized by Textile Arts LA, on view at the Helms Design Center, Studio E!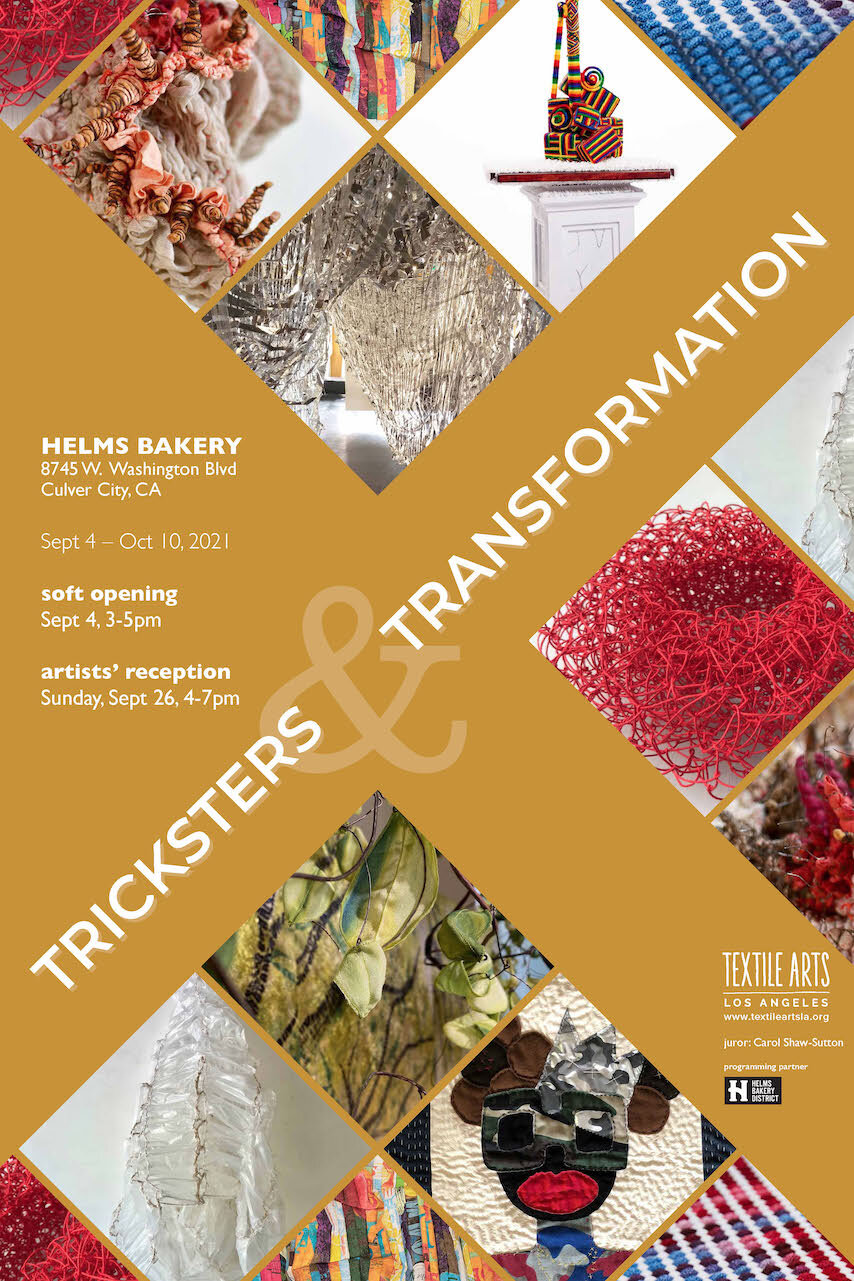 "Textiles have the universally demonstrated capacity for holding meaning, establishing connections, and creating healing. As we emerge, on many levels, from the darkness into the light of awareness of isolation and injustice we have an opportunity and obligation to examine the status quo. This exhibition will allow the artist to step into the now and make work that opens doors within themselves, thereby acting as a portal to a collective resurgence into a renewed relationship with the world. This awakening inspires transformation.
There is a deep potential for the artist to act as trickster, agent of change, or boundary crosser. After the pandemic and the social upheaval of the past eighteen months, the artist has gained renewed agency for creating more enlightened definitions of meaning and new ways of seeing.
The pandemic can be a portal, serving as a provocation to transformation."
I am showing "Torrent and Tangle: Keep Your House In Order", in a new configuration!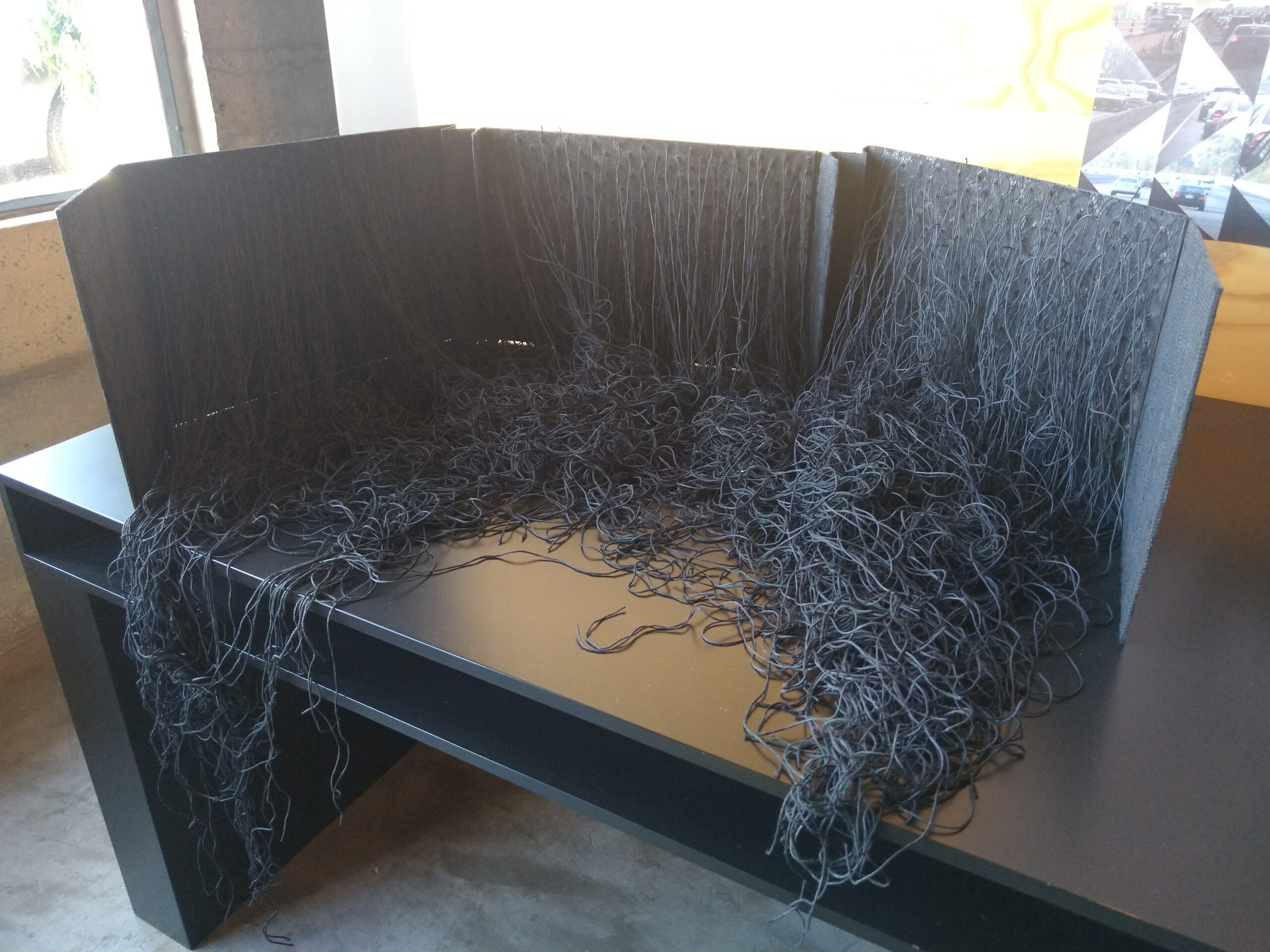 Juror: Carol Shaw-Sutton
Carol Shaw-Sutton has been exhibiting her fiber sculpture in the U.S. and internationally since the 1970s with the California Design Exhibitions, the Young American Award exhibition at Museum of Art and Design in NYC, three Lausanne Biennales in Switzerland and the Kyoto Museum of Art, Japan.  Her work is included in numerous major museum collections including the Oakland Museum of Art, The DeYoung Museum, The Museum of Art and Design, among others, as well as corporate and private holdings worldwide.  She received three NEA Individual Artist Fellowships, the prestigious Young American Award from the American Craft Council, the United States/Japan and the United States/France Fellowships and many others from her city and university. Shaw-Sutton recently retired from the School of Art at CSULB where she headed their Fiber Program for more than thirty years and is now Professor Emeritus.
Artist -in-residence Carmen Mardonez will be at the gallery. Please email Carrie Burckle or Lesley Roberts if you would like to meet one of us at the gallery to walk-through. Thank you for supporting textile arts in Los Angeles!