showing "Maximum Security"
made of Book Board, Wood, Mulberry Paper, Paint, Canvas, Watercolor Paper, Hemp Cord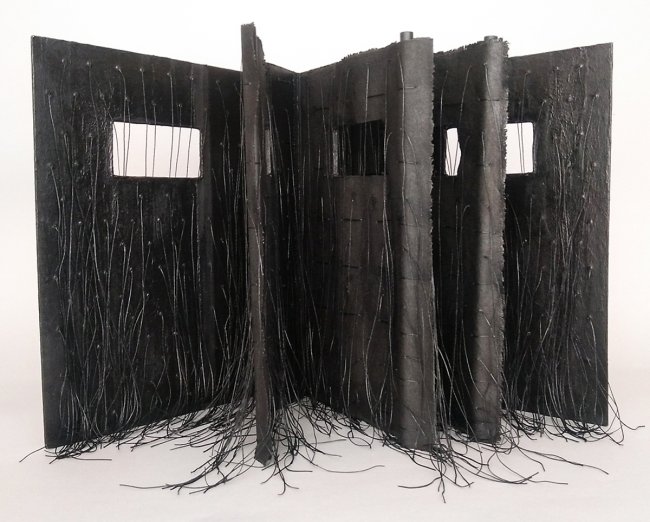 EXHIBITION DATES: January 14, 2022 – February 26, 2022
Opening: Friday, January 14, 2022 at 6:00 p.m. via Zoom
JUROR: Erin Jenoa Gilbert

Erin Jenoa Gilbert is a New York based curator and art advisor, specializing in Modern and Contemporary Art of the African Diaspora. Exploring the relationship between art, power and politics, her curatorial practice examines the physical and psychological connection to land, the trauma of displacement and the Black female body as contested terrain. Gilbert's intersectional critical analysis exposes the fault lines in the aesthetic regimes that dominate visual culture, specifically by presenting artists whose contributions to the canon have been overlooked, particularly women artists from the "Deep South" and the "Global South". Most recently the Curator of African American Manuscripts at the Smithsonian Archives of American Art, she has also held positions at The Art Institute of Chicago and The Studio Museum in Harlem.
Over the course of her career she has addressed audiences at The Studio Museum in Harlem, National Gallery of Art, Smithsonian American Art Museum, Howard University, Fashion Institute of Technology and Swann Auction House. Figure and Force, a conversation she moderated between Barbara Chase Riboud and Ilyasah Shabbaz for Solange's Saint Heron, exemplifies her commitment to expanding the audience for modern and contemporary art.
In July 2021, Gilbert curated A Force For Change, an exhibition presenting 26 contemporary women artists of African descent in New York benefiting UN Women. She is the co-curator of Mary Lovelace O'Neal: Whales Fucking which will open at MoAD in San Francisco, California in November 2022. Since 2015 she has curated several museum and gallery exhibitions in the US and UK including Zohra Opoku: Draped Histories/Beyond Visage, Sienna Shields: Invisible Woman and In The Eye of the Beholder.
Gilbert holds a BA in Political Science and a BA in African and African American Studies from the University of Michigan, and a MA in Contemporary Art from the University of Manchester.  She has published catalog essays on several prominent artists, including Deborah Roberts (Spelman University, 2018); Alma Thomas (Mnuchin Gallery, 2019); Chakaia Booker (ICA Miami, 2021) and Mary Lovelace O'Neal (MoAD, 2022).
Click Here to Read Erin Jenoa Gilbert's Juror Statement