I am excited and honored to be included in a number of current and upcoming shows across the US, and will be sharing about them in blog form, as well as in the EVENTS  section of my website, as a way of further describing and chronicling my practice, honoring colleagues, and sharing gratitude for these opportunities and the people, organizations and institutions that make them happen. Shout out to Elon Schoenholz, Photographer extraordinaire who took the photographs below of "Prairie", which will be shown in:
All Stitched Up
An international juried book arts exhibition
September 3rd – December 11th, 2019
Collins Memorial Library University of Puget Sound, Tacoma, WA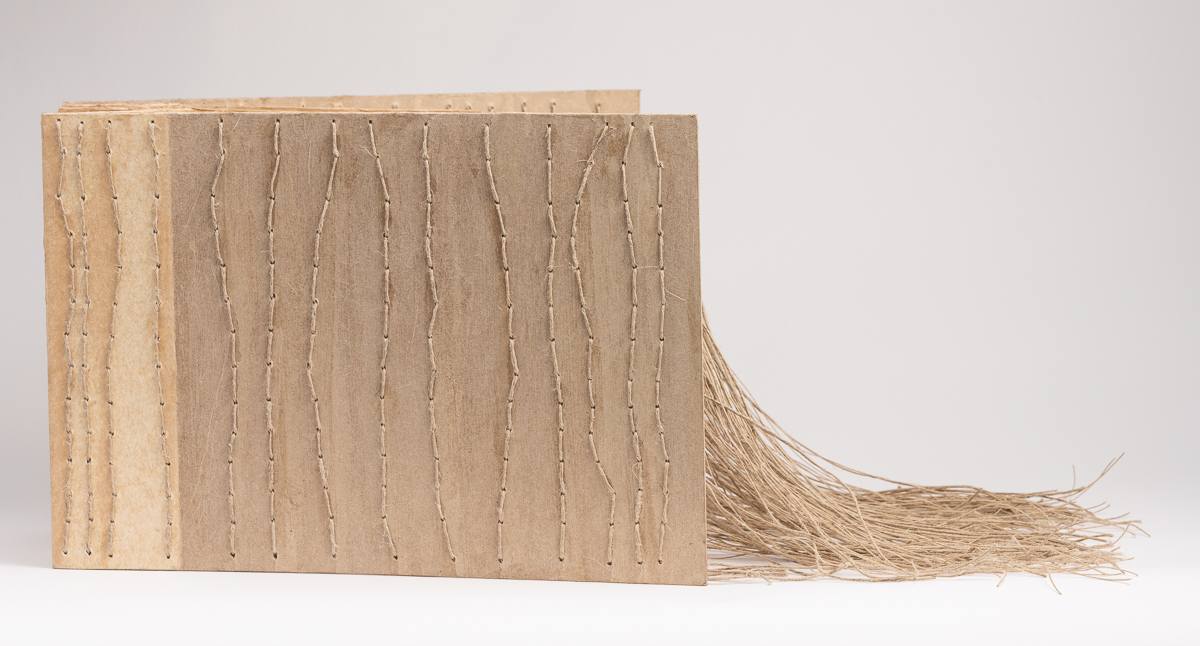 Prairie, (Front Cover, Outside) 2018, 10.25″ x 45″ x 15.25″, bookboard, jute cord, watercolor paper, tissue paper

Prairie, (inside) 2018, 10.25″ x 45″ x 15.25″, bookboard, jute cord, watercolor paper, tissue paper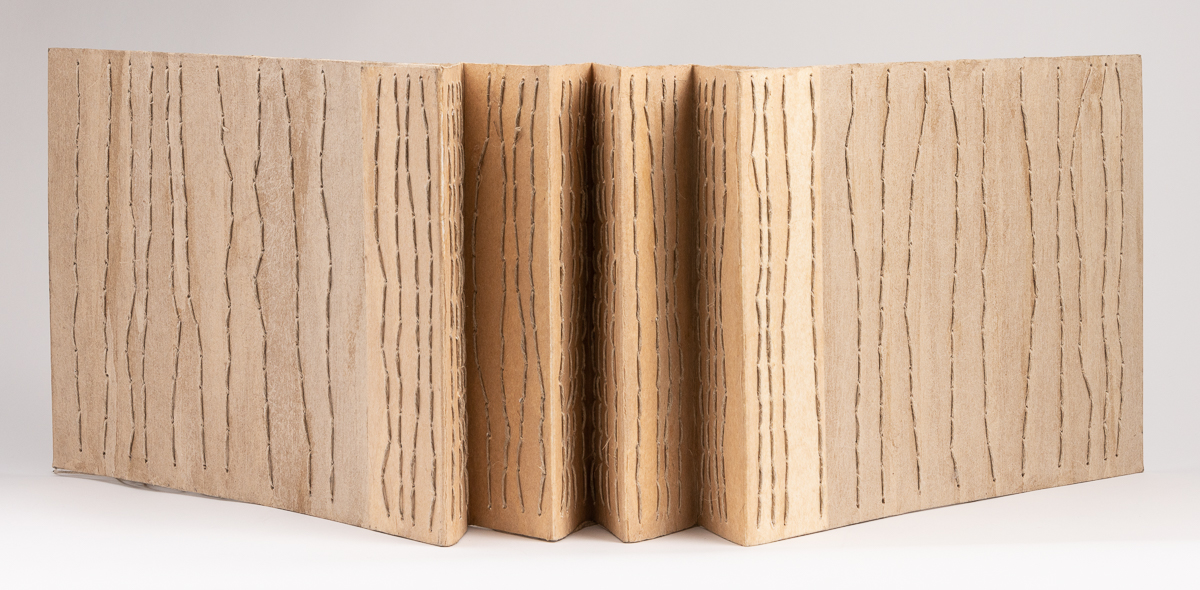 Prairie, (Outside) 2018, 10.25″ x 45″ x 15.25″, bookboard, jute cord, watercolor paper, tissue paper
"To stitch is to join together, to mend, or fasten as with stitches – to sew. To stitch is to bring together fabric, paper, wounds of the body, or cultural divides. Stitching can be an act of healing, hope, practicality, creativity, and revolution. All Stitched Up recognizes and celebrates the work of book artists' where stitching has become an integral part of the visual design. Curators Catherine Alice Michaelis, Jane A. Carlin, and Diana Weymar will jury the show and a print catalogue will be created.
We are particularly (but not solely) interested in works that showcase collaboration and focus on building a sense of shared community. That may include collaboration between two or more artists, two or more communities, or crowd-sourced projects. Sewing that joins people and ideas link us to historical social and political sewing circles from the abolitionist movement of the 1800s, to the corporate resistant DIY movement kindled by the Riots Grrrls in the 1990s, to the knitting collectives of today that focus on the anti-war, pro-science, and pro-choice movements. In addition, you may draw inspiration from the embroidered books of the Victorian period, the rise of needlecrafts during the Arts & Crafts period, and family traditions of sewing by machine or hand stitching." —All Stitched Up
Schedule:
September 3rd – show opens
September 14th – opening celebration
December 11th – show closes
Curators
Catherine Alice Michaelis is an artist, writer, publisher, curator, teacher, and most recently – videopoet and animator. As proprietor of May Day Press, she is best known for her artist's books that incorporate letterpress and pressure printing techniques. In 1998, Catherine began to feature sewing in her print work in relation to family, intimate secrets, and emotional healing. She collaborates often, with both artists and writers, and her 1999 collaborative project, Stack the Deck: 22 Artists Mark the Cards for Women's Health & Healing, is frequently on show somewhere. Her artist's books have been featured in solo and group exhibitions throughout the U.S. and are collected in over 80 institutions. Catherine was profiled in the 'Nature' episode of Craft in America on PBS in 2017. She lives near Olympia, Washington.
Jane A. Carlin is currently the Library Director at the Collins Memorial Library at the University of Puget Sound. Prior to joining Puget Sound, Jane was the Director of the Design, Architecture, Art and Planning Library at the University of Cincinnati and has also held positions at Oxford Brooks University in Oxford, England, University of Texas, Arlington and Indiana University-Purdue University, Indianapolis. Jane has long been an advocate for the artists' book. Her graduate these, A History of Art Book Publishing in Great Britain, serves as the foundation for many programs and classes she has taught on the art and history of books, including classes on William Morris, the history of the book, as well as artists' books and social justice movements. In 2008, Jane brought the book arts to the Collins Library and has worked with community members to form Puget Sound Book Artists, an organization dedicated to supporting and promoting book arts. Jane is the curator of numerous exhibits at the Collins Library and currently serves as the Vice-President of the PSBA organization.
Diana Weymar lives in Victoria, BC. She has a studio practice and is the creator of Interwoven Stories, an international textile project. She grew up in the wilderness of Northern British Columbia, studied creative writing at Princeton, and worked in film in New York City. Interwoven Stories has been exhibited and implemented in Colombia, Switzerland, Syria, Canada, and the States. She has worked with, is working with or had a residency with The Zen Hospice Project, The Nantucket Atheneum, The University of Puget Sound, UMass Amherst, The Peddie School, The Arts Council of Princeton, Build Peace, Trans Tipping Point Project, and The Textile Arts Center (Manhattan). Her work has been exhibited and collected in the States and Canada. She also curated art for the NRG Energy Headquarters in Princeton, NJ.
I am thrilled and honored to be n this show, and cannot wait to see the catalog of all the Stitched Up works included.
It should be fascinating.
Gratitudes.