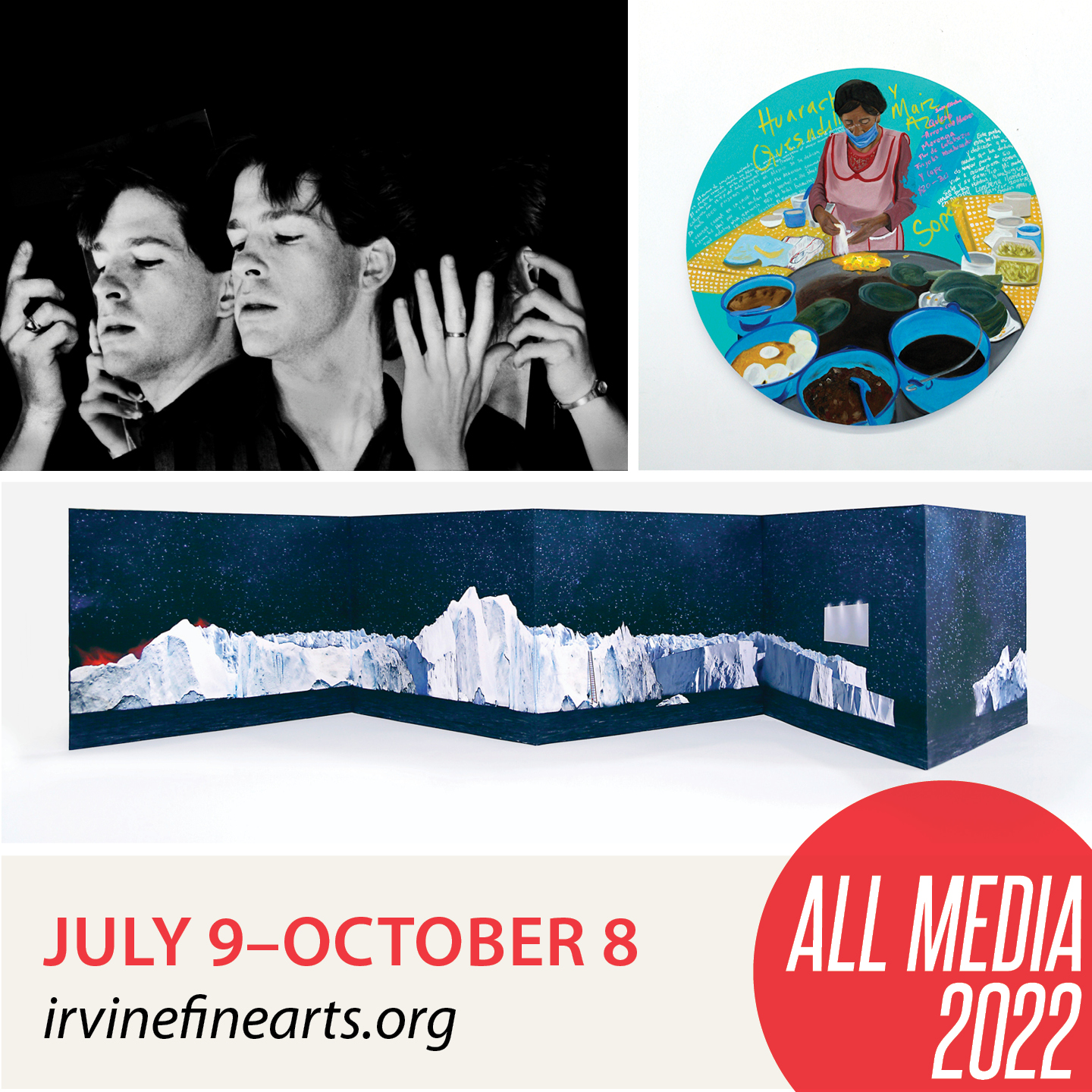 All Media 2022
Exhibition: July 9–October 8
The Irvine Fine Arts Center is proud to announce the opening of All Media 2022, an exhibition featuring 56 local and regional artists whose artworks engage historic and contemporaneous themes. The exhibition will be on view July 9–October 8, with a free opening reception scheduled for Saturday, July 9, 2–4 p.m.
Works selected for this year's All Media exhibition span painting, sculpture, printmaking, photography, fiber, video, and mixed media. Awards were announced at the opening reception for three outstanding artworks and three honorable mentions, all of which were chosen by guest juror Joseph Daniel Valencia.
Exhibiting artists: Luciana Abait and Debra Disman, Eslam Abdelrahman, Debbie Abrames, Estefania Ajcip, Mary Allan, Stephen Anderson, Sheryl Ball, Ryan Bautista, Scout Bender, Danielle Bewer, Barbara Boissevain, Rachel Bunteman, Ruben Cantoran, Dennis Carrie, Michael Chesler, Ashoke Chhabra, Kat De Guzman, Jorg Dubin, Roland Escalona, Dede Lucia Falcone, Silvia Faris, Richard Ferncase, Karen Fiorito, John Flores, Gabriel Gonzalez, Audrey Hernandez Peterson, Gina Herrera, Lua Kobayashi, Joe Lee, Michael Lopez, Kiara Aileen Machado, Kai Mao, Tamara Martin, Jared Millar, Dorsadaf Moinzad, Skip Mueller, Melody Nunez, Francisco Palomares, Sho Peng, Gianni Pham, Alkaid Ramirez, May Roded, Isabella Salvatierra, Deanna Sanches da Silva, Chanchala Singh, Meriel Stern, Todd Swart, Hedy Torres, Noriho Uriu, Michael Usher, Kurt Theodore Weston, John White, Michael Wicks, and Rob Williams.
Guest juror Joseph Daniel Valencia is the associate curator of the Vincent Price Art Museum. In addition to his work as a historian, writer, and curator, Valencia has previously worked for the City of Irvine, as well as the J. Paul Getty Museum, the Los Angeles County Museum of Art, ONE Archives at the USC Libraries, and UCR ARTSblock.
"drift", a collaborative work created by myself and artist Luciana Abait is included in the exhibition!