The Book As Art, vol. 8: Infinity – ARTIST TALK!
October 28, 2020 @ 4:00 pm
FREE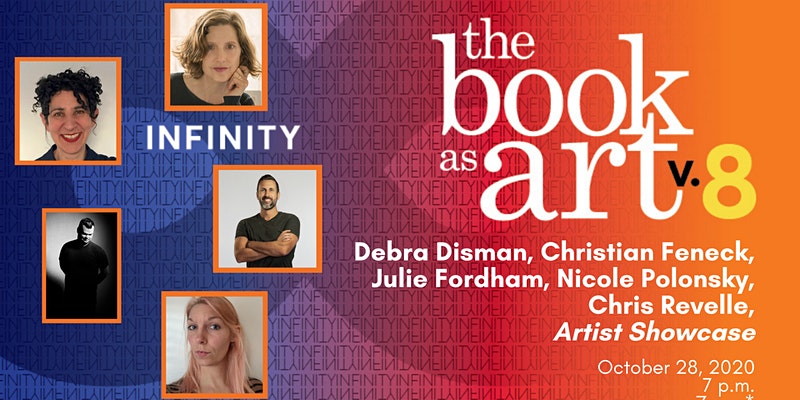 Join us for an artist talk every Wednesday in October with artists featured in the 2020 Book As Art, vol.8: Infinity Exhibition.
About this Event
Join us for an artist showcase, featuring 5 artists' who have pieces in the 2020 The Book as Art v.8: Infinity exhibition: Debra Disman ("Maximum Security"; "Prairie"), Christian Feneck ("The Unmade Room"), Julie Fordham ("The Dream"), Nicole Polonsky ("32xF"), and Chris Revelle ("Living Monuments"). For more information about their work, visit the catalogue for the exhibition here: Book As Art, vol.8: Infinity Catalogue
Debra Disman is a Los Angeles-based artist working primarily in the form of the book, both as a solo practitioner and in the public sphere of community engagement. As a maker and teaching artist she creates work and projects which push the boundaries of the book into new forms and materials. Her work is shown in museums, galleries, universities and libraries across the US including The Brand Library and Art Center in Glendale, CA, Craft Contemporary in LA, The University of the Arts in Philadelphia, and the Los Angeles Municipal Art Gallery. Disman was the featured artist for the Big Read in LA in 2016; is the recipient of a WORD: Artist Grant / Bruce Geller Memorial Prize in 2016 to create "The Sheltering Book", a life-sized book structure; and was commissioned by LA's Craft Contemporary Museum to create an interactive book for their 2017 exhibition, "Chapters: Book Arts in Southern California." She was a Studio Resident at the Camera Obscura Art Lab in 2018, and was awarded five Artist-in-Residence grants from the City of Los Angeles Department of Cultural Affairs since 2017 to work with the diverse Valley communities of LA.
Artist Christian Feneck combines his architectural training with painting, print, and installation art to create visual experiences of space using color. Feneck's paintings explore the relationship of vision and the understanding of space by using architectural perspective conventions in combination with a layered series of translucent color fields.. Born in Massachusetts but raised primarily in Hawaii, California, and Florida, Feneck has resided in Fort Lauderdale since 2004. Feneck was a Visiting Professor of Architectural Design and Theory at Florida Atlantic University and participated in the FATVillage Artist Incubator Residency and the IS Projects Existent Books Residency programs. Feneck contributed to numerous group and solo exhibitions throughout South Florida as well as curated several installation art exhibitions.
Julie Fordham is a mixed media artist working in Atlanta, Ga. She attended Rhode Island School of Design where she studied Illustration. Julie's work is a personal narrative. She uses plants, animals, and insects along with her figures to interpret the world and the people around her. She creates intuitively and enjoys experimenting with new materials. She loves tedium and contrast. The combination of rough texture with feminine details. Tons of miniscule stitches and lace. Bright colors with dark heavy feeling imagery. Words are added as a source of texture. Her work explores the symbolism tied to animals and plants and reframes them in a way that establishes her own visual vocabulary. She has shown around the city of Atlanta and Nashville, and participated in many shows at the Tannery Row Artist Colony in Buford.
Nicole Polonsky is a visual artist whose practice encompasses limited-edition prints, bookworks and multiples; drawing and unique object-making; writing; film, installations and performance. She also devises and produces group projects and exhibitions, and collaborates with other artists to realize cross-disciplinary ventures. Nicole gained her bachelor's degree at the Ruskin School of Drawing and Fine Art, University of Oxford, and master's in Print at the Royal College of Art, London UK. She has shown extensively throughout her career. Recent exhibitions include lapse:re:lapse, MOCA London WE UK; Lighting Up Time, Northern Print and Side Cinema, Newcastle UK; A Pollock's Gallimaufry, and The Contemporary Print, Flatbed Press and Gallery, Texas USA. In 2019 Nicole received an Arts Council England Project Grant for Lighting Up Time; she was shortlisted for the 2018 Flourish Award for Excellence in Printmaking and the 2016 Neo:Printprize .Nicole's artworks are held in private collections internationally and public collections at Museum of Modern Art and Lafayette College; Barcelona Museum of Contemporary Art,and the Victoria and Albert Museum, among others. Her work was featured in a number of publications including Creative Review, Art Monthly and Printmaking Today, as well as The Word is Art. Nicole lives and works in London, UK.
Chris Revelle is an interdisciplinary artist with a socially-engaged and research- based studio practice. Through the examination of history, language, and visual culture, Revelle's work confronts the failures and abuses of social, political, and economic systems. The goal of his practice is to challenge public memory while inspiring discourse and empathy. Revelle has exhibited in the United States, Hong Kong, London, South Korea, and India. He was the recipient of the 2018 Idea Capital Grant and a finalist for the 2017 Hong Kong Human Rights Art Prize. Revelle has created work for United Nations organizations, and was formerly the Chair of Fine Arts at Savannah College of Art and Design, Hong Kong, and a Faculty Instructor of Painting and Drawing at Arizona State University. He earned his Master of Fine Arts from the School of Art at CalArts (California Institute of the Arts) in Valencia, CA.