In Resonant Residence (12)
I formally began Studio Residency at the Camera Obscura Art Lab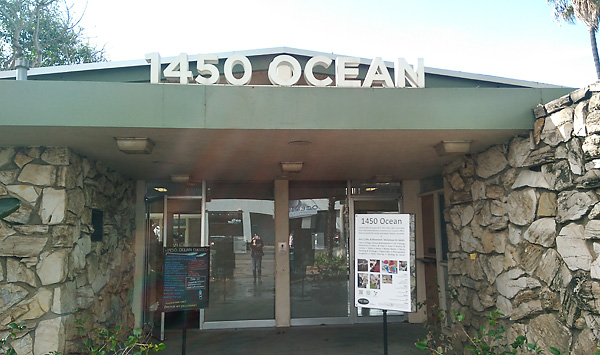 in Santa Monica Wednesday January 10th, and completed it Saturday, April 21, 2018.  I shared the sunlit space, located within a beautiful Mid-century building overlooking Palisades Park, Santa Monica Beach and the blue Pacific with textile artist and fellow Studio Artist-in-Residence Huong Nguyen.
"About the Art Lab and Camera Obscura
Step inside the Camera Obscura Art Lab and you'll find a welcoming space with fantastic views of Santa Monica Bay and the Pier. The Camera is located in a midcentury time capsule in Palisades Park between Broadway and Santa Monica Blvd on what was once the site of the Pacific Electric Railway's North Beach Station. Designed by noted architect Weldon J. Fulton (who's work can be found around town including the classic Camera Obscura sign and font, the Montana and Fairview branch libraries, and the former Zucky's building on Wilshire Blvd), the building's exterior features walls clad in chunky Palos Verdes stone, glass walls, sloping roofs, and projecting canopies and rafter beams. It was donated to the City of Santa Monica by Marcellus Joslyn in 1955."
The huge studio windows look out on palms, walkways and a huge assortment of passers by, strollers, park wanderers and beach combers. The Studio is a magical place to work.
My 14th Workshop  April 21, 2018: "Jam out on the Big Beach Book with Debra Disman"   was a meaningful round-up of Residency activities, both workshops and magical making time in the glass-walled Studio…working on The Big Beach Book…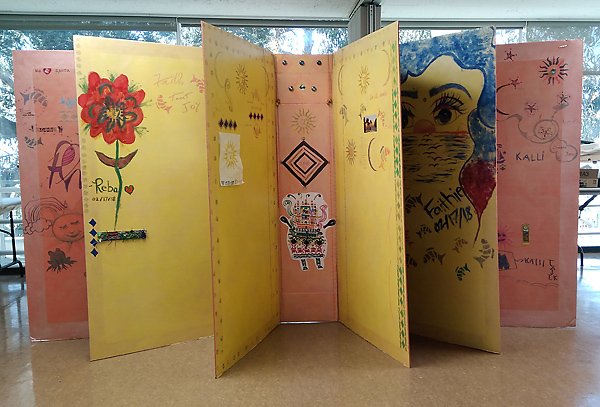 Before "residing" at 1450…The Beach Book was "The Sheltering Book"…and had nothing on it's pages save color, texture and borders.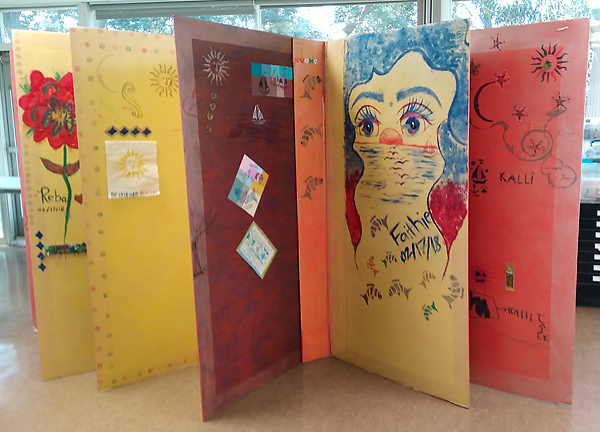 The community turned out, and dove into the project, adding paint, stamping, stenciling, collage, printing, altered book pages, maps, beach glass and more to the Book's surfaces.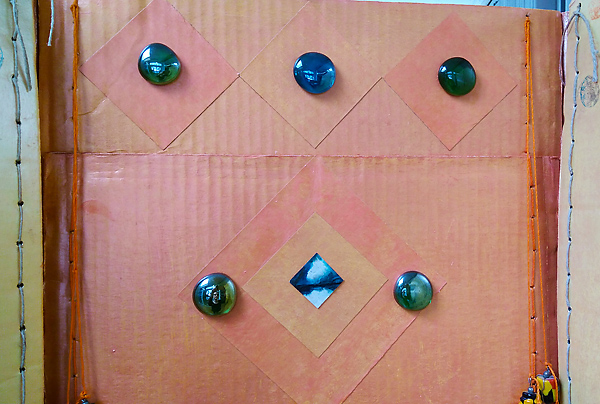 The original diamonds were enhanced by the addition of blue and green beach glass, and a tiny scrap from my studio-mate Huong's Shibori on Paper workshop.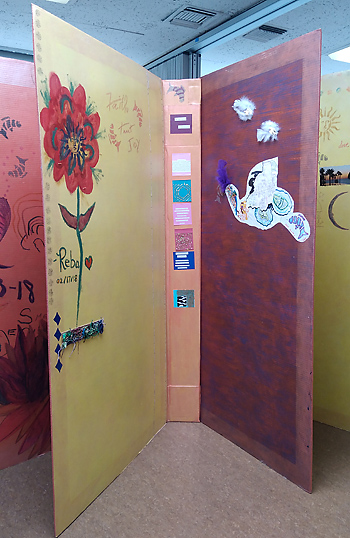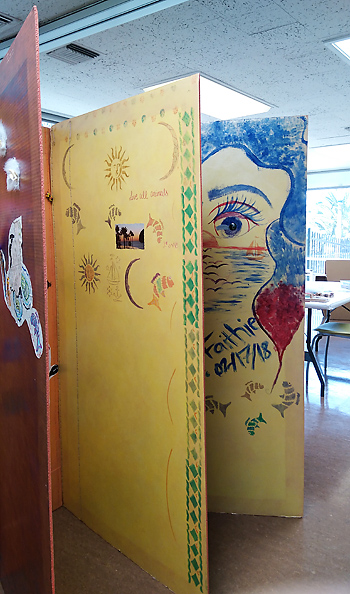 During our "New Works" show, visitors used paint pens to create colorful works right on the paper-covered tables.  I cut these out, and added them to the Book.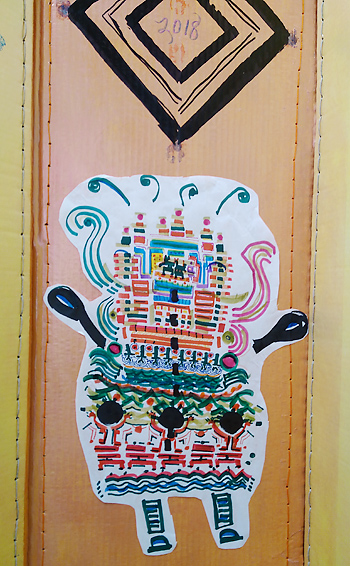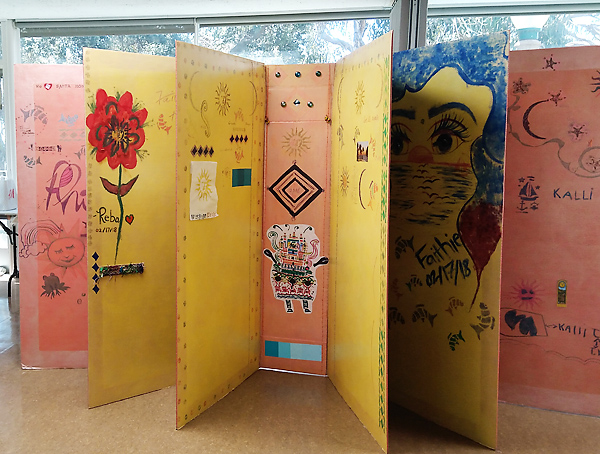 Paint color samples, salvaged from my life as an architectural color consultant, proved to be a fun addition.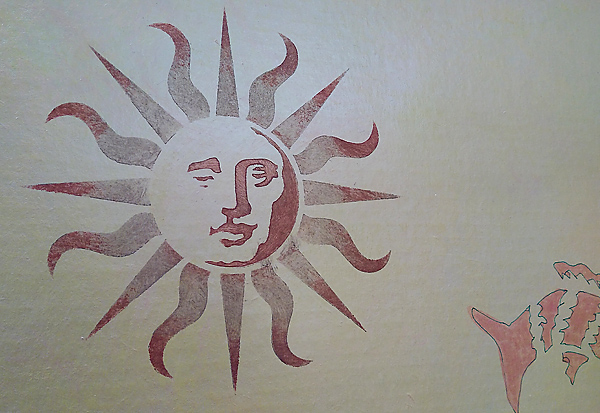 The sun stencil was perfect for our Beach theme…and was used in different ways on the Book.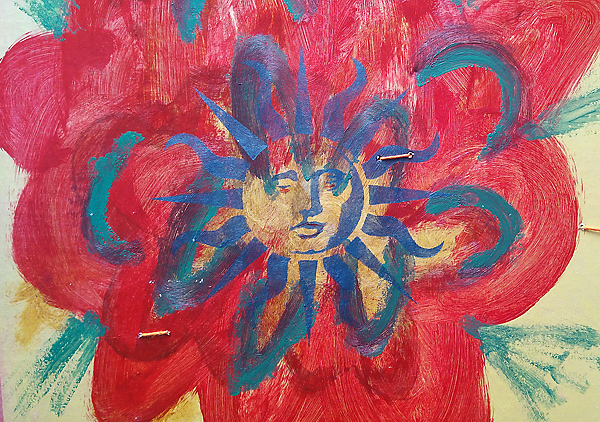 A bold young maker painted the big flower onto one of The Book's surfaces, and a stenciled sun was layered over it.
This young maker was headed back to the Bay Area with her family, and they stopped at the Camera Obscura on a whim.  happily, they investigated the Art lab, and joined us in adding to The Big Beach Book.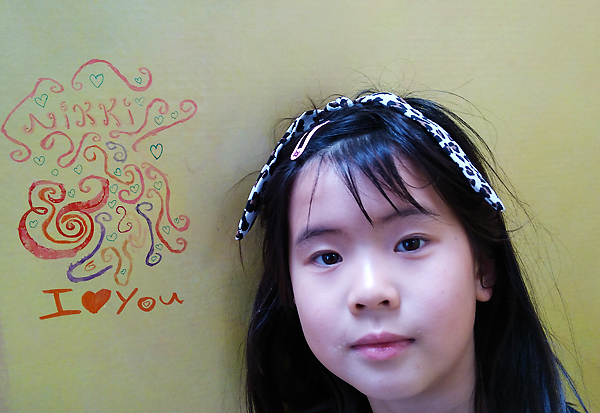 A fitting message. So glad you stopped by Nikki!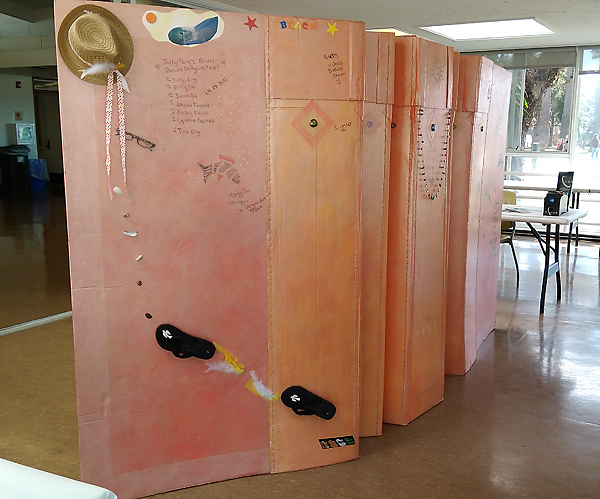 Traversing the back cover of The Book.
Sunhat, shells, funky glasses…the accoutrements of the Beach.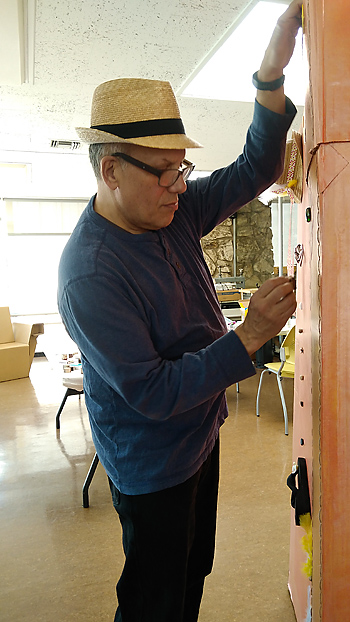 Adding to the back cover…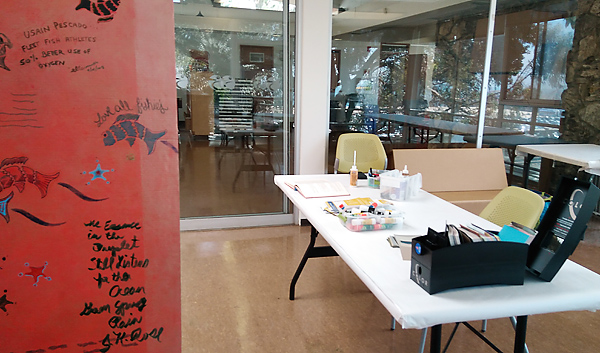 Participants used the fish stencils to great advantage, and used The Book as a place to share thoughts, wishes, ideas and dreams.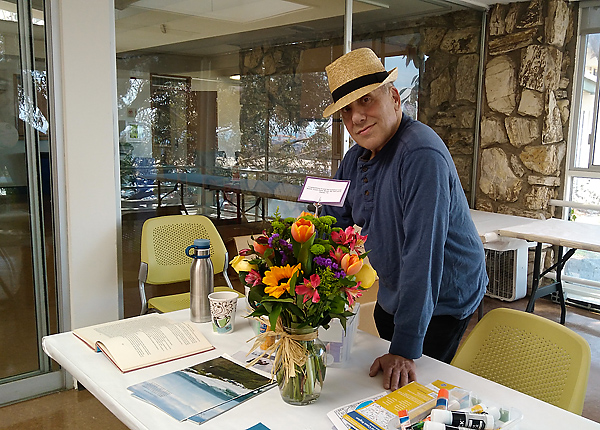 Surprise flowers from family…golden!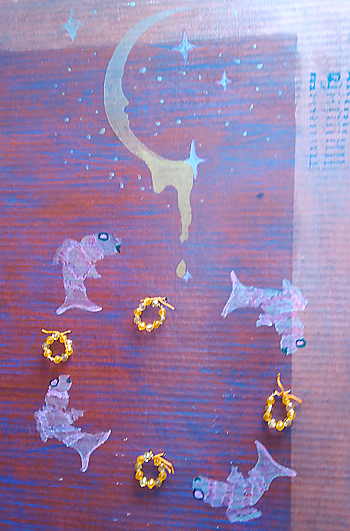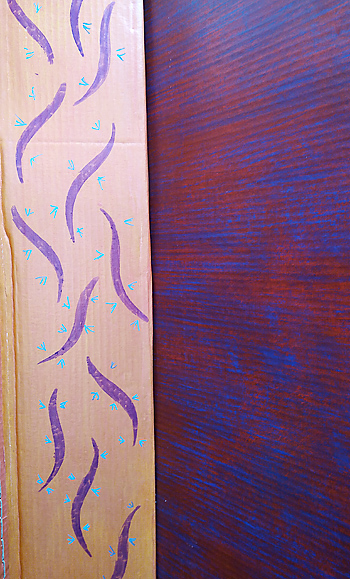 Stenciled and collaged fish swim in schools and circles. participants created bubbles using a the top of a jar to print acrylic paint with, and sea flora using translucent beads.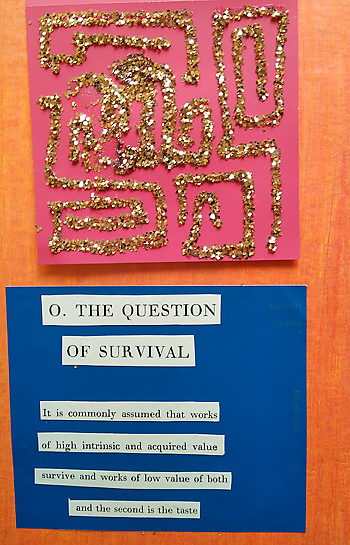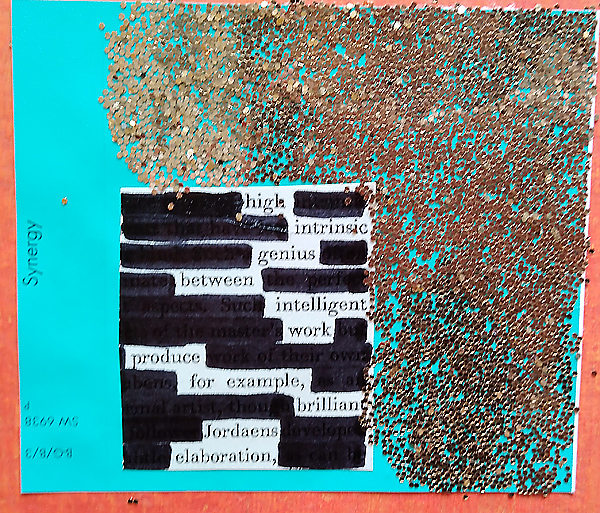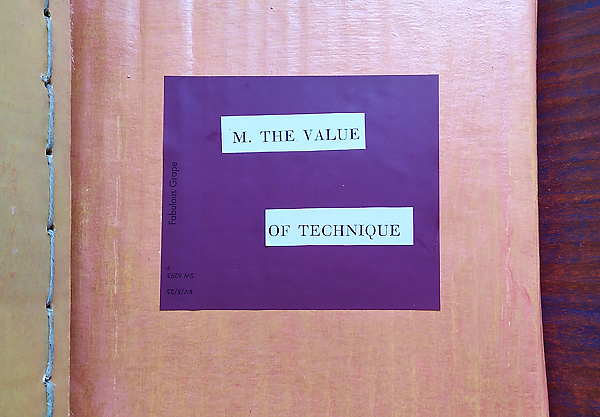 During our "Altered Pages" workshop, participants combined book pages with black-out technique, glitter, paint chip samples and other collage materials to create fresh juxtapositions and poetic musings.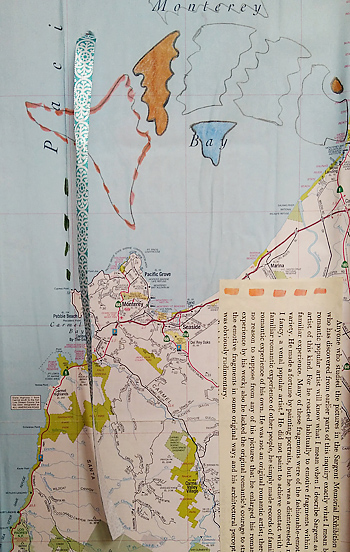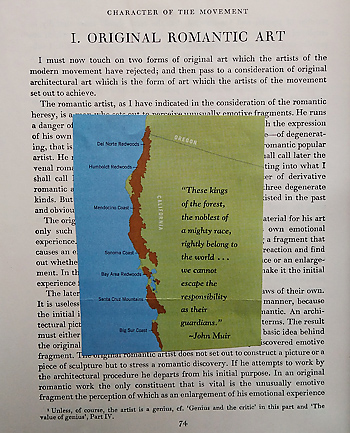 Book pages, maps, maps on maps, stencils and ribbon add layers of texture, design and meaning.
Our fearless leader, City of Santa Monica Cultural Affairs Supervisor, and creator of the Art Lab and the Residency program, Naomi, begins to ready the Studio for the new Artists-in-Residence, "moving in" the following week.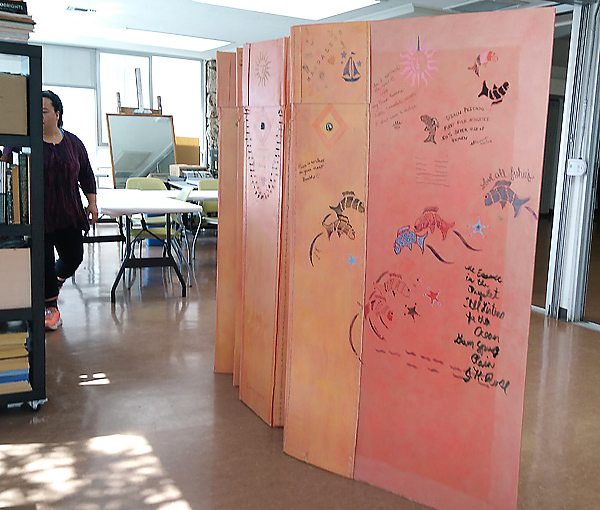 One last turn around the Studio, and the Big Beach Book,
before it goes into its last incarnation (that I will have a hand in, anyway…)
with a few elements saved for posterity…for the moment anyway…
What. A. Sublime. Experience.
Gratitudes.