I formally began Studio Residency at the Camera Obscura Art Lab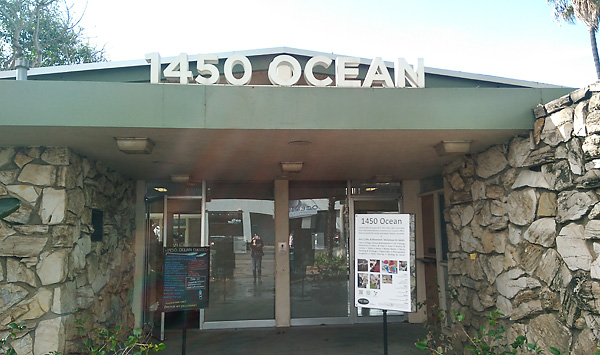 in Santa Monica Wednesday January 10th.  I share the sunlit space, located within the beautiful Mid-century building overlooking Palisades Park, Santa Monica Beach and the blue Pacific with textile artist and fellow Studio Artist-in-Residence Huong Nguyen.
"About the Art Lab and Camera Obscura
Step inside the Camera Obscura Art Lab and you'll find a welcoming space with fantastic views of Santa Monica Bay and the Pier. The Camera is located in a midcentury time capsule in Palisades Park between Broadway and Santa Monica Blvd on what was once the site of the Pacific Electric Railway's North Beach Station. Designed by noted architect Weldon J. Fulton (who's work can be found around town including the classic Camera Obscura sign and font, the Montana and Fairview branch libraries, and the former Zucky's building on Wilshire Blvd), the building's exterior features walls clad in chunky Palos Verdes stone, glass walls, sloping roofs, and projecting canopies and rafter beams. It was donated to the City of Santa Monica by Marcellus Joslyn in 1955."
The huge studio windows look out on palms, walkways and a huge assortment of passers by, strollers, park wanderers and beach combers. The Studio is a magical place to work.
Fifth Workshop, February 10, 2018: "Simple Sewn Booklets" AKA: Single Signature Books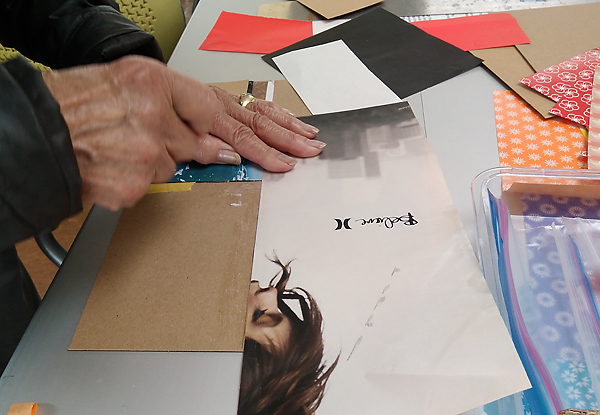 Signatures are gatherings of folded pages, which when stitched together, can become the text block (area where text is added).  In this process, we sewed together a single signature using the very useful pamphlet stitch.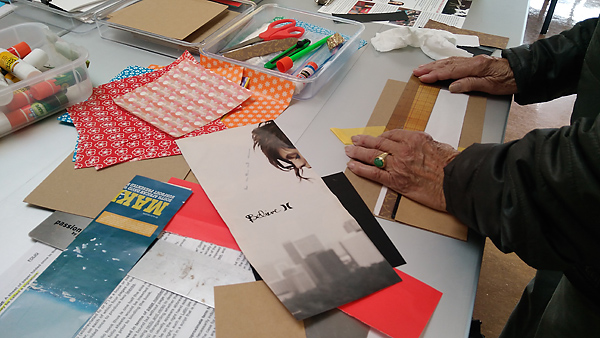 We attached the covers to the signature, so that the stitched spine was exposed.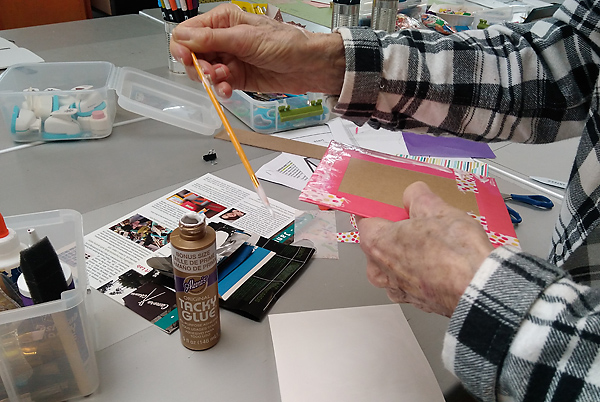 Participants could design and embellish their covers before gluing them directly to the signatures, or attach the covers, then develop them. Some "covered the covers",, learning folding and cutting techniques and creating covered corners.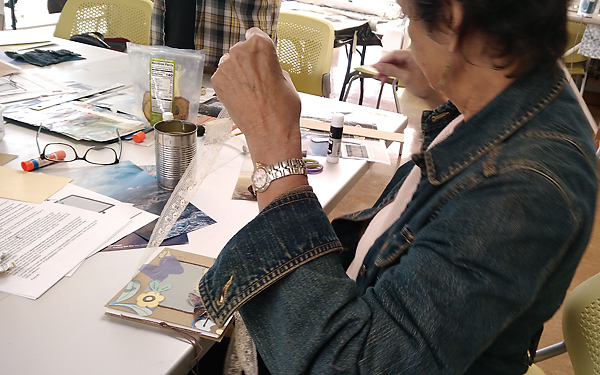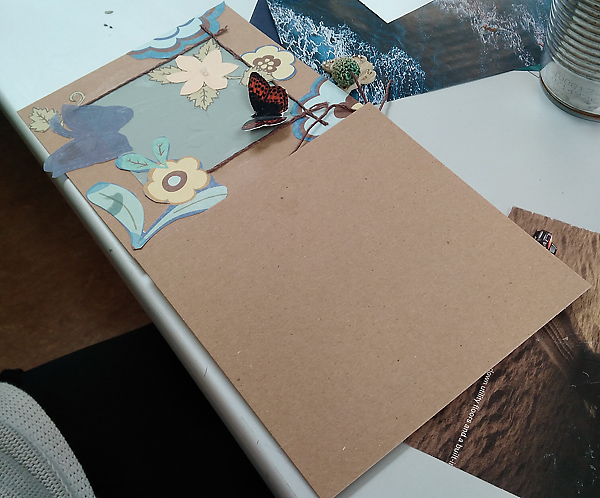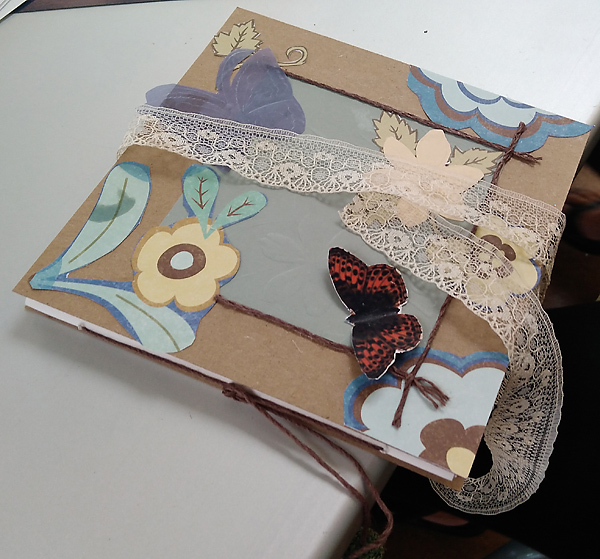 They made creative use of cord, lace, decorative papers…beads and more,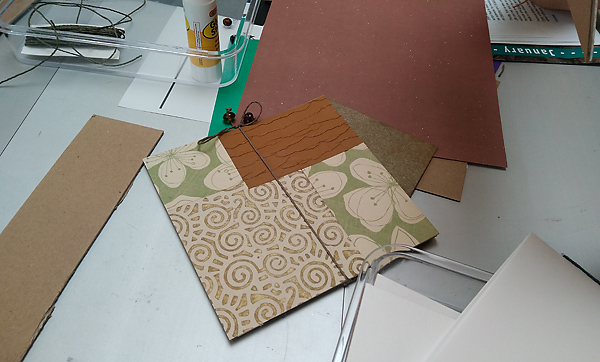 including repurposed jeans, specifically, the denim pockets!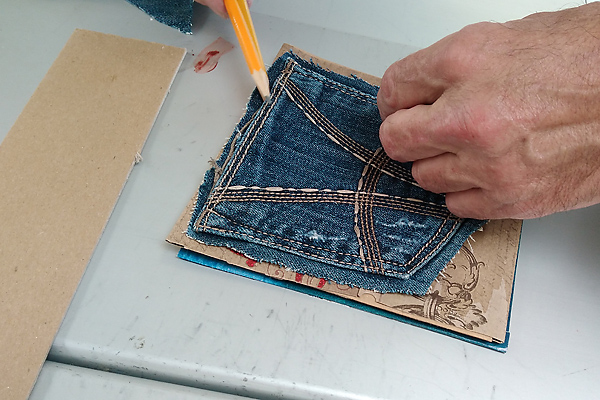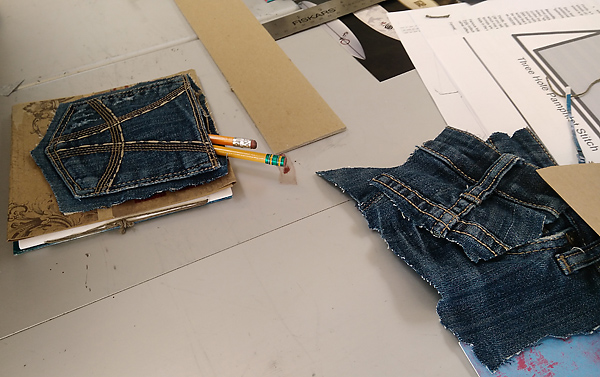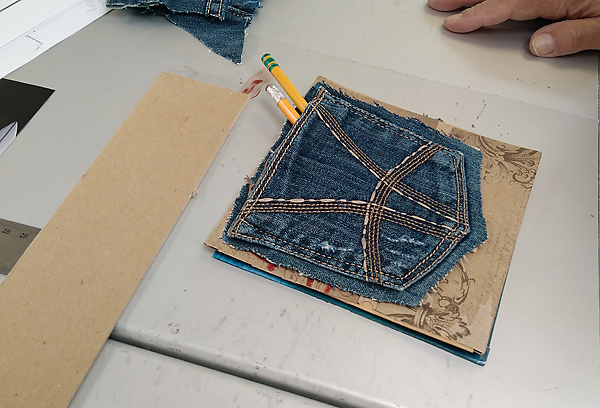 The components of the book were prepared for participants to use, covers and signatures cut into squares, sewing holes punched.  Yest still, the makers used every moment of the 2.5 hour workshop to create and develop their books.
Human ingenuity, devotion and love of the handmade never cease to amaze me…I am blessed to witness this regularly in my practice.
Gratitudes…