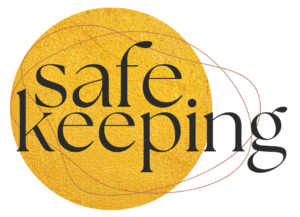 EXHIBITION THEME:
This is a time for safeguarding both body and land, for seeking refuge through ritual and narrative, and for defending precarious boundaries and issues.
Sanctuary Cities, Nature Conservancies, Safe Houses, Communities of Care are at the forefront of public consciousness. As an artist, how do you sustain both the earth and its communities? How do you protect yourself in body and spirit as well as strengthen connections with others? How can you tend values that matter most? How do you use heritage, ritual, and the making process to anchor yourself? Safekeeping brings together works that explore these questions and the role artists play in stewarding communities, values, and the earth.
 Safekeeping will celebrate works that push the evolution of textiles through the use of color, design, processes, and meanings.

View the Show HERE!
Listen to the Artists' Talk HERE!
---
JUROR
Born in Oklahoma, Anita Fields is a contemporary Native American multi-disciplinary artist of Osage heritage. She is known for her works which combine clay and textile with Osage knowledge systems. Fields explores the intricacies of cultural influences at the intersection of balance and chaos found within our existence, explaining that: "The power of transformation is realized by creating various forms of clothing, coverings, landscapes, and figures. The works become indicators of how we understand our surroundings and visualize our place within the world." In this way, the early Osage concepts of duality, such as earth and sky, male and female, are represented throughout her work.
IMPORTANT DATES: 
*June 2, 2023: Exhibition Opening, First Friday Art Crawl
*June 21, 2023: Textile Talk Virtual Program
*July 23, 2023: Exhibition Closes