I am thrilled to participate in: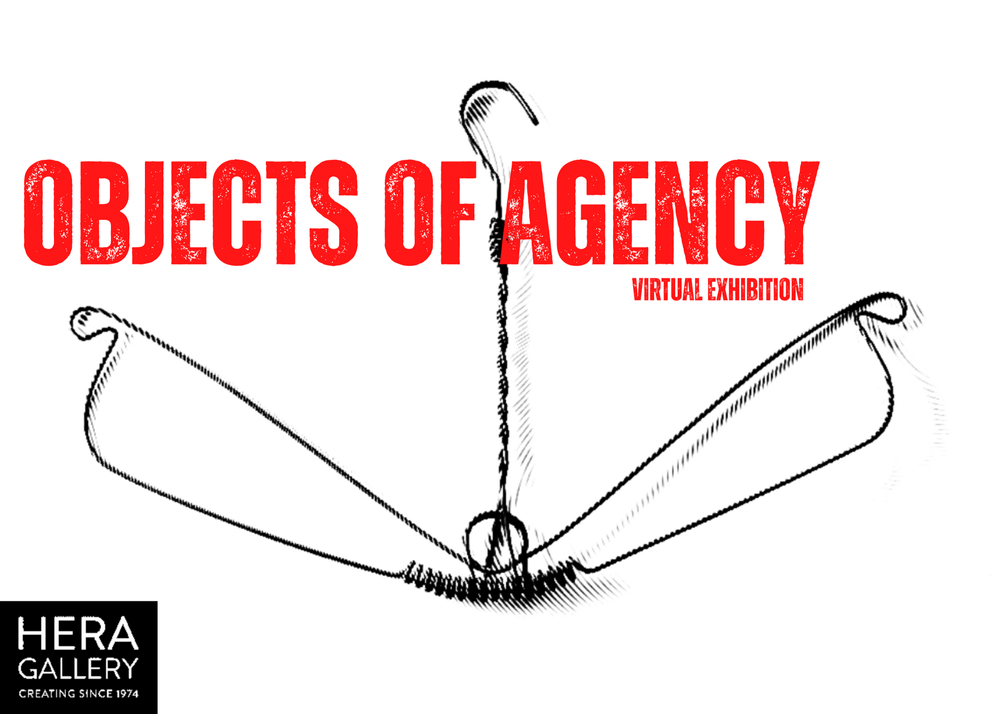 A Virtual Exhibition
On view at heragallery.org and @hera_gallery on social media
Objects of Agency addresses the health care crisis which has recently culminated in Dobbs v. Jackson Women's Health Organization and stripped thousands of people of the right to bodily autonomy. 
The United States has the worst maternal mortality rate among other similarly developed countries. According to the University of Colorado, due to the Dobbs decision, maternal mortality rates are projected to go up 14%. For women of color, it is 20%. Simply due to women's health care becoming more restrictive and less accessible.
When "abortion" is typed into a Google search, the first page that comes up is a misleading website filled with fear slogans and misinformation to prevent women from seeking necessary and viable health care options. A recent research study by the Center for Countering Digital Hate showed that in many right wing states, 1/10 Google search results for abortion services lead to anti-abortion fake clinics. When abortion is typed into Instagram, the first hashtag is #abortionisevil. 
So, what do we do? How can we use our creative voices to counteract misinformation and false advertising and provide viable discourse and inspiration? 
Hera Gallery has invited artists to fight, cry, rage, and make art, and to  to connect with others through creative expression in hopes that it brings a sense of insight, or deep feeling, beauty, education, perseverance, protest, connection and/or community. We have invited artists to share their voices through the virtual exhibition Objects of Agency. 
Objects of Agency is composed of 53 works which speak to abortion rights in the United States. The virtual exhibition takes place over the 52 weeks of 2023. All selected works will be on virtual display throughout the duration of the exhibition on heragallery.org.  Each week, Hera Gallery will choose one featured artist and artwork from the exhibition to represent the current tribulations and inspirations of the current state of women's health care in America. Featured artists will be posted on all social media accounts. Objects of Agency aims to stimulate, educate, and encourage abortion care. It aims to challenge the anti-abortion campaigns and false information which dominate the internet. It aims to provide access to factual information and ultimately to create a platform and a network to share the voices, choices, and stories of all women and female identifying persons.
Gallery commission of sold works will be donated to Planned Parenthood.
Participating artists will have the opportunity to speak in a virtual artist talk hosted by Hera Gallery.
About Hera Gallery:
Hera Educational Foundation and Gallery promotes contemporary professional artists through a comprehensive exhibition schedule of member work, curated, and juried intersectional social justice shows. Together with thought-provoking programming our organization encourages dialogue that enriches the cultural life of our non-urban Southern RI community. We provide a venue for young talent to find a public voice, and creative support to local health services. Since its inception in 1974, Hera has been resolutely dedicated to gender equity and feminist discourse to challenge perceptions and inspire social change.
Because of its flexibility and commitment to presenting exhibitions with artistic merit and integrity Hera has been awarded numerous grants for its exhibitions and programs including grants from Rhode Island State Council on the Arts, The Champlin Foundation, Rhode Island Council on the Humanities, Rhode Island Foundation, and the Puffin Foundation.
I am showing, "Excavation of the Interior", 2021, 12 x 28 x 12.5″, Mixed media: wood, mulberry paper, canvas, muslin, watercolor paper, hemp cord and linen thread. It stands upright in any degree of opened/closed. Open, it can span up to 28″ wide.